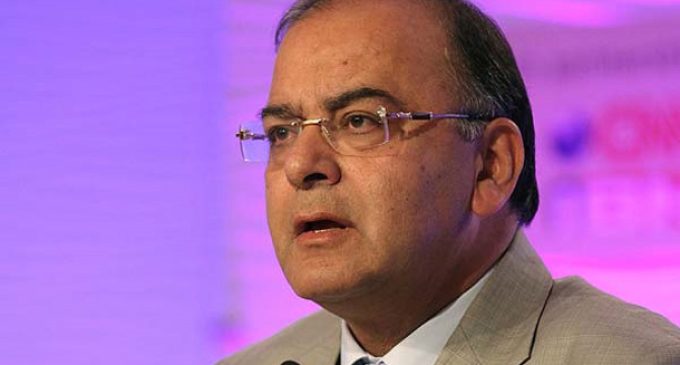 New Delhi, June 16 (IANS) Finance Minister Arun Jaitley will be accompanied by a high-powered business delegation on his ten-day visit to the US to propel the nation's agenda, a business chamber said on Tuesday.
As many as eight past presidents of the Federation of Indian Chambers of Commerce and Industry (Ficci), led by current president Jyotsna Suri, are embarking on a four-day visit to the US from June 17 to 20, the business chamber said in a press release here.
"This visit by FICCI seniors is aimed at supporting the nation's agenda and to assure international investors and the business community that Indian industry strongly stands by the vision of Prime Minister Narendra Modi and Finance Minister Arun Jaitley to take India to higher levels of growth and overall development," said Suri.
The delegation will travel to New York and Washington D.C. to highlight India's improved investment climate and positive economic outlook, the release added.
The Ficci seniors will interact with officials from the New York Stock Exchange, foreign institutional investors, think-tanks and business schools too.
Ficci and the US-India Business Council (USIBC) will facilitate meetings with CEOs, business leaders, investors, and representatives from the US industry and Indian-American community, the release said.
The Indian business leaders joining the finance minister are Harshavardhan Neotia, chairman, Ambuja Neotia Group; Y.K. Modi, chairman and CEO, Great Eastern Energy Corporation; Onkar S. Kanwar, chairman, Apollo Tyres; Saroj Kumar Poddar, chairman, Adventz Group; Harsh Pati Singhania, vice chairman and MD, J.K. Paper; Rajan Bharti Mittal, vice chairman and MD, Bharti Enterprises; Naina Lal Kidwai, country head, India and director, Asia Pacific, HSBC; Uday Shankar, CEO, Star India; Atul Punj, chairman, Punj Lloyd Group; and Rashesh Shah, chairman and CEO, Edelweiss Financial Services.
Finance Minister Jaitley is scheduled to leave here on Tuesday on a 10-day US visit during which he will meet US Secretary of Treasury Jacob Lew, foreign institutional investors (FIIs) and US industry leaders.
Jaitley's US itinerary during the visit, ending on June 25, embraces New York, Washington and San Francisco cities.