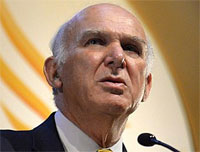 London, Sep 7 Britain's Secretary of State for Business, Innovation and Skills Vince Cable is scheduled to visit India next month to resolve the matter of visas for Indians wanting to study in Britain.
The move came following a sharp drop in applications from India, in contrast to a steep rise in the number of Chinese students coming to British universities.
The minister said he was inclined towards greater leniency on post-study work visas for overseas students, said a press release by Ray Media Sunday.
Delivering the Sarat Bose Memorial Lecture at Lincoln's Inn Saturday evening, Cable conceded there was tension between his ministry and the home ministry over visa rules.
"There is quite a lot of tension. It is an ideological tussle between coalition partners," said Cable, who is from the Liberal Democrats, who are in a coalition with the Conservative Party, the statement said.
He said his party believed in an "open and welcoming approach" to international students and admitted that there was "deep disagreement in our coalition" in this respect.
Referring to the recent tightening of the visa regime in Britain to prevent entry of bogus students, Cable said: "The student visa has been tightened, but there is a perception issue in India that Britain no longer welcomes students, which is not true at all."