Mumbai, July 7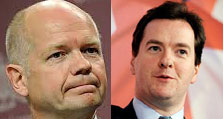 British Foreign Secretary William Hague and Chancellor of Exchequer George Osborne Monday started a high-level visit to India here, heading the biggest ever delegation and hoping for "good days" of cooperation between the two countries.
"We are here this week with the biggest delegation yet to meet the new government – as a sign that we want to unleash the vast potential in the strong ties between India and United Kingdom," Hague told a meeting of top industrialists here.
He added that Mumbai was the birthplace of Dadabhai Naoroji, Britain's first MP of Indian origin who was a powerful advocate for India and an example of currents of ideas and influence that have long flowed between the two countries.
Expressing Britain's desire for exploring the new Narendra Modi-led National Democratic Alliance (NDA) government's bold programme of change creating opportunities, the minister listed three critical areas of cooperation.
"We want to be a leading partner as Prime Minister Narendra Modi presses ahead with his plans for development growth benefitting all Indians. We have our own experience of turning around our economy and we want to work with you to accomplish your goals across the board," Hague said.
Britain would connect India with leading British companies that have the skills, expertise and experience to help this country achieve the infrastructure projects, investments in science and innovation and improved healthcare being planned, he said.
Hague said Britain wants to strengthen the educational links between the two countries as both benefit hugely from the flow of students, researchers, ideas and expertise.
In the past five years, Britain has welcomed around 100,000 students from India and it has set up a new programme to send 25,000 Britons to study, volunteer and gain work experience in India over the next five years, besides setting aside a 50 million pound Newton Fund for new joint research to tackle global development challenges, the minister said.
As part of the 30th anniversary of the Chevening Scholarship programme, Britain will quadruple the budget to study at world class British universities, and for mid-career professionals to take specialist courses.
"Last year we awarded 50 scholarships, next year we will offer 150, making this our largest Chevening scholarship programme anywhere in the world," Hague declared.
The third area Britain desires to work closely is in foreign policy to advance the shared interests and values of the two countries.
"In the last few years we have worked closely together during India's time on the UN Security Council and we continue to support a permanent seat on that body for India," Hague assured.
He listed other areas of cooperation like counter-terrorism, dialogue on cyber policy, working together in Afghanistan and with Afghanistan's other neighbours.
Hague said that at the start of the Centenary of World War I, his country will honour 1.2 million Indians who served to defend Europe's freedom so that their courage and sacrifices are not forgotten.
This year, Britain will host the first-ever Pravasi Bharatiya Divas in that country to celebrate the huge contribution made to their national life by the 1.5 million British-Indians, he said.
Emphasising that India accounted for the largest diplomatic network for a single country, Hague said that over 50 ministerial trips came in the past four years, new deputy high commissions were opened in Chandigarh and Hyderabad, same-day business visas and new service to return passports pending visa decisions introduced as well as ease for British firms to share cutting edge technology with India.