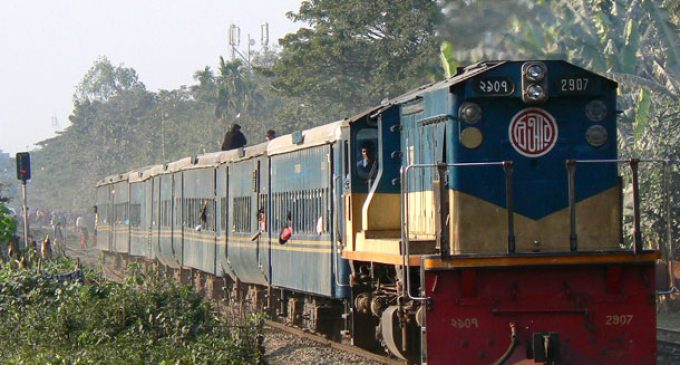 Agartala, Sep 25 Bangladesh might restore the abandoned railway connectivity that existed before the partition of India to boost trade and people-to-people contact, Mohammad Mazibul Hoque, the country's railway minister, said here Thursday.
"After the partition of India in 1947, many railway connectivities between the two neighbours had snapped. We are considering restoring most of those deserted railway linkages," Hoque told reporters.
"With the help of Indian investment preliminary works have started to lay a 15-km railway track to link Tripura's capital Agartala with Bangladesh's (southeastern city) Akhaurah. The project would be operational at the earliest as the two countries are very serious to execute the plan."
A senior official (construction) of the Northeast Frontier Railway (NFR) said the total cost of the proposed project is estimated at Rs.252 crore. "The Indian Railway Construction Company (IRCON) would lay the new railway tracks on both sides of the border," he said.
Of the 15 km rail line, five km of tracks fall in the Indian territory and remaining in Bangladesh.
The Agartala station came up on the country's rail map in October 2008.
Hoque, who came here to attend a function in connection with the centenary of a school, said that with the financial assistance from the Indian government, 12 railway projects are being implemented in Bangladesh.
The projects include Dhaka-Tongi and Khulna-Mongla railway line extension and manufacturing of 120 coaches for Bangladesh railways.
"When Bangladesh Prime Minister Sheikh Hasina visited New Delhi in January 2010 and held meetings with her then Indian counterpart Manmohan Singh, India had assured to provide $1 billion to Bangladesh for implementation of many projects, including development of railways and roadways," Hoque said.
He said the Bangladesh government has launched an ambitious plan to create simultaneous dual-gauge (Broad Gauge and Meter Gauge) railway line to further develop the internal connectivity and also to improve the railway linkages with India.
"If the old connectivities including the deserted railway linkages were restored, trade, business, people-to-people relationship and tourism between India and Bangladesh would further develop," he added.
The visiting minister said that the life, culture, tradition and many other aspects between Tripura and Bangladesh are same, therefore, there is a huge scope to further develop the historic relationship between the two countries.
"India's then Prime Minister Indira Gandhi, people of various Indian states specially Tripura helped us a lot in the nine month long liberation war in Bangladesh in 1971 and creation of sovereign country. We shall never forget such help," said Hoque, 67, a freedom fighter.
To a question about to ferry food grains, essentials and heavy machineries from different parts of India and abroad to mountainous northeastern states via Bangladesh, the minister said his country is ready to help India in all aspects.
India has for long been seeking land, sea and rail access through Bangladesh for ferrying goods and heavy machinery to its northeast from abroad and other parts of the country.
Agartala is 1,650 km from Kolkata and 2,637 km from New Delhi via Guwahati and West Bengal, whereas the distance between the Tripura capital and Kolkata through Bangladesh is just about 350 km.
The NFR is now laying tracks to connect Tripura's southern most border town Sabroom, 135 km south of here. From Sabroom, the Chittagong international sea port is just 72 km.