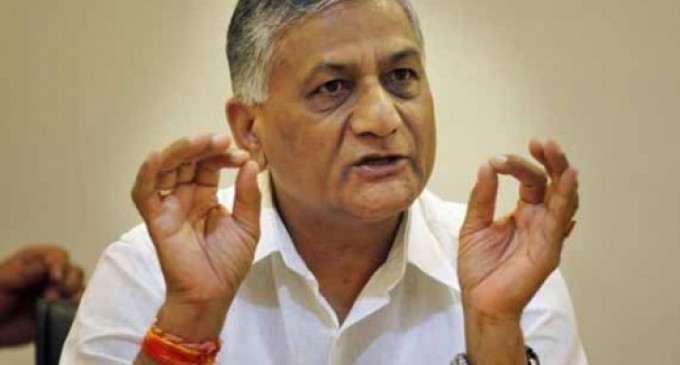 New Delhi, May 26 (IANS) Even as African envoys in India on Thursday decided to participate in the Africa Day event, following a "constructive meeting" with top Indian officials, the Indian government said that a few isolated cases of violence against African nationals should not be generalised to portray a climate of insecurity for African students.
On Thursday, African envoys decided to review their decision of calling for postponement of the Africa Day event, which was being read as a boycott, following the killing of a Congolese national in New Delhi last week.
The review followed a meeting of the African Heads of Missions with Minister of State for External Affairs V.K. Singh and with Ministry of External Affairs Secretary (Economic Relations) Amar Sinha.
The envoys, in a statement, said that the African Group reiterated its request to the government of India "to take concrete steps to address the plight of African students in India" and also ensuring prosecution of those involved in the murder of M.K. Olivier, a Congolese national, on May 20.
After noting that the government of India has "demonstrated a positive and warm disposition" in addressing their concerns, and also issued a "strong, public condemnation of the killing of Olivier" it decided that their decision to request a postponement of the Africa Day event "should not have been construed as a boycott" and that they will participate in the Indian Council for Cultural Relations-organised Africa Day event.
The Africa Group also underscored the importance they attach to ties with India. They also "took very seriously the firm assurances by the government of India in its determination to ensure that India continues to serve as a safe, secure and friendly destination for African students", the statement said.
In his briefing, the ministry of external affairs spokesperson Vikas Swarup said that "It would be unfortunate that a few isolated cases are generalized to portray a climate of insecurity for African students. It is also not right to characterize criminal acts as being racially motivated."
He said the CCTV footage of the attack on Oliver by some goons shows that some Indian bystanders tried to protect the Congolese national, but they in turn were also thrashed by the same goons.
"Thousands of African students continue to benefit from the Indian education system without any issues. We are committed to work closely with the African diplomatic and student communities to ensure full safety and security of all African students in India," he said.
Swarup said that External Affairs Minister Sushma Swaraj is personally monitoring the matter.
"I would like to reiterate that India remains open to our brothers and sisters from Africa and there should be no cause for concern," he stated.
The assurances from India came even as some Indian shops were attacked in Congo – in retaliation to the killing of the Congolese national Olivier .