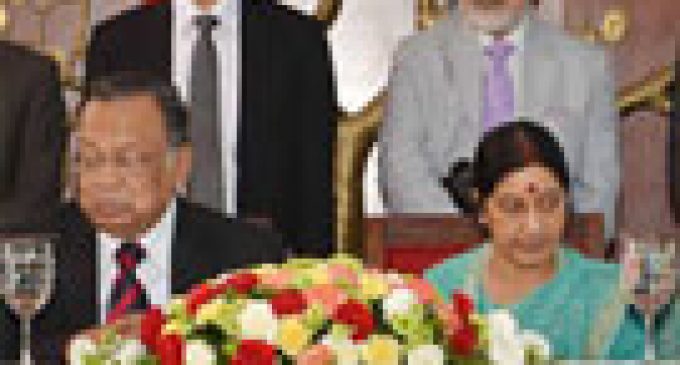 New Delhi, Sep 20, 2014 Third India-Bangladesh Joint Consultative Commission (JCC) Meeting held here Saturday, with both sides agreed to increase connectivity.
The meeting was co-chaired by visiting Bangladesh Foreign Minister Abul Hassan Mahmood Ali and External Affairs Minister Sushma Swaraj.
The Maitree Express train that runs between Kolkata and Dhaka will have an extra coach added to it from Sep 23, he said. The train's frequency may also be increased from twice a week to three times, he said.
The trial run of the planned Guwahati-Shillong-Dhaka bus service would also take place at the end of the year, the spokesperson added.
Both sides are also planning to have an agreement on coastal shipping soon.
Bangladesh is India's largest trading partner in South Asia, with bilateral trade at $6 billion, which is skewed in India's favour.
New Delhi has requested Dhaka to allow special economic zones for Indian businesspersons in Bangladesh where they could invest and set up ancillary industries.
Bangladesh Foreign Minister Mahmood Ali informed Sushma Swaraj that Bangladesh was ready to provide a location where India can invest.
There are 16 locations, from which a suitable location would be chosen for the Indian SEZ, the Bangladesh side told India.
He said India was "extremely pleased" with the development and hopes that it would help address Bangladesh's concerns over the balance of trade being in India's favour.
The two countries are also in talks over the "possibilities of cooperation in the field of civil nuclear energy and in space technology", he said.
"India is willing to share its experience with Bangladesh in both the fields," he said.
In another major effort to deepen cooperation, both sides have agreed to have an interaction between their district magistrates and district collectors, the spokesperson said.
The district collectors and district magistrates on both sides of the India-Bangladesh border would be formed into nine clusters or groups. A meeting between the first cluster is to be held in October, he said.
Next year, all the district magistrates and district collectors would meet in India, Akbaruddin said.
India provided a Line of Credit of $1 billion earlier to Bangladesh as part of development cooperation assistance.
Of this, $200 million has been converted to grants and the rest is being utilised as long term assistance. Of the remaining $800 million, 15 projects have been approved for which $750 million has been earmarked and seven projects completed, he said.
Both sides are in discussion on new Lines of Credit for special projects, he added.
The two outstanding issues of sharing of Teesta river waters and the Land Boundary Agreement came up for discussion during the joint commission meeting, the spokesperson said.
Sushma Swaraj conveyed to the Bangladesh side that India was conscious that Teesta is a matter of priority for Bangladesh and clarified that political consensus needs to be worked out on the issue and that the "process is underway", he said.
And till a solution is worked out, "the waters of the Teesta will flow unimpeded", India has conveyed.
On the Land Boundary Act, the minister conveyed that the bill was introduced in the Rajya Sabha, which prevented it from lapsing. With the formation of a new Lok Sabha, the Standing Committee on Foreign Affairs has been reconstituted and the bill has been referred to the new committee and "consultations are underway". Once the new committee gives its report the due process will be followed, he said.