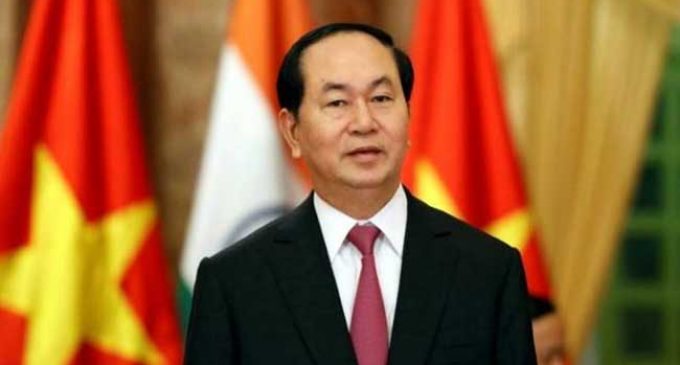 New Delhi, March 3 (IANS) Vietnam President Tran Dai Quang arrived here on Friday on a three-day visit to India at the invitation of his Indian counterpart Ram Nath Kovind.
"Warm welcome to the Vietnamese President, Tran Dai Quang and his wife Nguyen Thi Hien on a state visit to India!," External Affairs Ministry spokesperson Raveesh Kumar tweeted.
"Vietnam is an important pillar in India's #Act East Policy and the two countries share civilisational relationship spanning over 2000 years," Kumar said.
President Quang landed in Bodh Gaya in Bihar, a Buddhist pilgrimage site, earlier on Friday before reaching New Delhi.
Vietnam is an important partner in southeast Asia and is currently the country coordinator for India with the Association of Southeast Asian Nations (Asean) regional bloc, a role that will be handed over to Thailand later this year.
Apart from Asean, India and Vietnam closely cooperate in other regional forums such as the East Asia Summit, Mekong Ganga Cooperation, Asia Europe Meeting (ASEM) besides the UN and WTO.
India-Vietnam trade stood at $6.24 billion in fiscal 2016-17 and the two sides have agreed to raise this to $15 billion by 2020.
Defence has emerged as an important pillar of the bilateral relationship and Indian ships regularly make friendly port calls to Vietnam.
India is also an important development aid partner for Vietnam and has extended several lines of credit for capacity building in the southeast Asian nation.
Vietnam is also among the larger recipients of scholarships offered under the Indian Technical and Economic Cooperation (ITEC) programme.