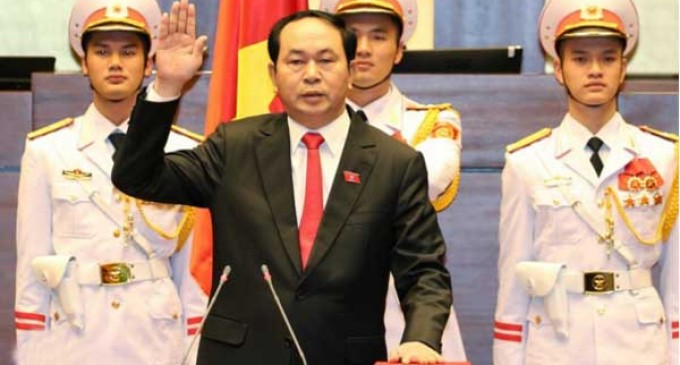 Hanoi, April 2  Vietnam's National Assembly on Saturday elected Tran Dai Quang as the country's new president.
Quang has been elected and sworn in as the president with 452 "yes" votes out of 481 valid ballots at the ongoing 11th session of the 13th NA, Xinhua news agency reported.
Prior to the election, Quang served as the public security minister since 2011.
On Thursdayn, the newly-elected NA Chairwoman Nguyen Thi Kim Ngan delivered a proposal on the nomination of a candidate for the position of president.
Quang, member of the 12th Central Committee of the Communist Party of Vietnam (CPVCC) and member of the 12th CPVCC Politburo, was the sole nominee to the post.
After the election, Quang said "In front of the sacred national flag, the National Assembly and voters nationwide, I, Tran Dai Quang, president of the Socialist Republic of Vietnam, swear: To be absolutely loyal to the nation, the people and the Constitution of the Socialist Republic of Vietnam. I will make efforts and try my best to well fulfillthe duty assigned by the party, the state and the people."
On Thursday afternoon, Truong Tan Sang was relieved from duty as the president.
In January, Sang was not elected to be among 200 members of the new CPVCC.