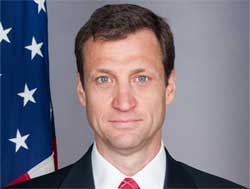 Gandhinagar, Oct 17  The US has evinced interest in participating in the upcoming Vibrant Gujarat Summit-2015 as a partner country.
Tom Vajda, consul general at the US Consulate in Mumbai, said the US has sent a formal proposal to Gujarat Chief Minister Anandiben Patel regarding this.
"We recognised the importance of Vibrant Gujarat as a platform to support the India-US economic engagement," Vajda, here to attend a seminar on urban design and planning, told mediapersons.
The Vibrant Gujarat summit will be held Jan 11-13.
"Through Vibrant Gujarat we intend to bring our companies here and also want to showcase the US as a destination for education, business and tourism. We have offered our interest to serve as partner country through a letter sent to the CM. We hope that it will be accepted," he said.
Vajda added that there is increasing interest in the US about economic opportunities in India.
Organisers of Vibrant Gujarat, who recently visited the US, said there is huge excitement in the business, industry and government circles there about the potential in the state.
"With a new government at the Centre led by Narendra Modi, people in business, economy, industry, government as well as non-resident Indians (NRIs) are excited about India," they said in a statement.
They said even officials from the US department of commerce assured the organisers of its participation.