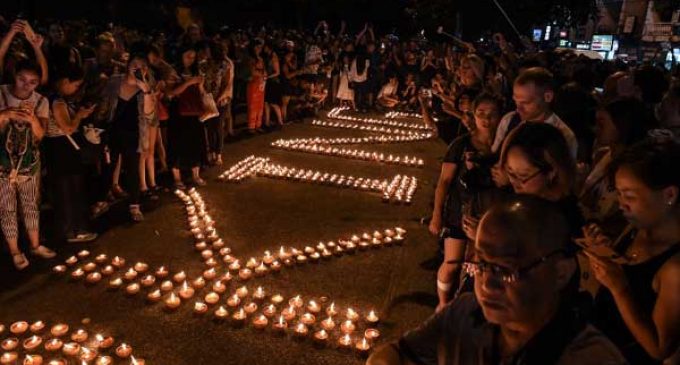 Bangkok, Oct 26  Thousands of mourners gathered here on Thursday to participate in a five-day funeral ceremony for Thailand's late King Bhumibol Adulyadej who died in October 2016 after seven decades on the throne, media reports said.
Bhumibol's son and heir, King Maha Vajiralongkorn, will light the funeral pyre at 10 p.m., and his father's ashes will be collected and transported back to the palace on Friday. Two more days of ceremonies will follow, reports the BBC.
The funeral officially started on Wednesday with a merit-making ceremony, a Buddhist rite, in the Grand Palace here.
On Thursday, a series of Buddhist rites began in the royal palace, and then the royal urn was moved onto a chariot.
Almost 5,000 members of the military, wearing traditional Thai military attire, walked in the procession as the chariot moved from the Grand Palace Throne Hall to the crematorium on the Sanam Luang Royal ground.
The 14-tonne royal chariot, Phra Maha Pichai Ratcharot, or the Great Victory Royal Chariot, was built in 1795, during the reign of King Rama I, and has been used ever since in every funeral for kings, queens and members of the royal family, reports Efe news.
According to the Thai government, an estimated 110,000 people have passed the checkpoints into the inner area of the ceremonial ground as an all-night inspection was conducted between 8 p.m. Wednesday to 6 a.m. Thursday.
Thailand has been in mourning since Bhumibol, also known as Rama IX, passed away on October 13, 2016.
Members of royal families and dignitaries from more than 40 countries will attend the cremation.
Preparations for this week's events took almost a year and have included setting up the large cremation complex near the palace, the BBC reported.
The funeral site features sculptures of mythical creatures and auspicious animals such as lions and elephants.
According to Buddhist tradition, the funeral rituals are modelled after the universe and the cremation pyre represents a sacred mountain.