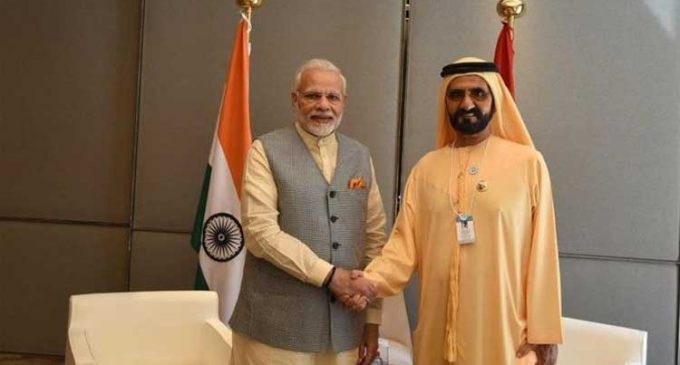 Abu Dhabi, Feb 11  India and the UAE on Sunday condemned terrorism in all its forms and efforts by states to use religion to justify sponsoring of terrorism, said a joint statement issued following Indian Prime Minister Narendra Modi's two-day visit to the Gulf nation.
Sunday's joint statement comes after Saturday's delegation-level talks between Modi and Crown Prince of Abu Dhabi and Deputy Commander of the United Arab Emirates (UAE) Armed Forces Sheikh Mohammed Bin Zayed Al Nahyan here.
"Both sides underlined that as diverse societies, India and UAE exemplify as credible models against the tendencies of extremism and radicalism.
"While appreciating the existing cooperation in this area, including through exchange of visits and best practices, both sides resolved to deepen cooperation on combating extremism and further strengthen their efforts in countering terrorism," it said.
The joint statement said both Modi and the Crown Prince "agreed that extremism and terrorism cannot be defeated by use of force only, and acknowledged the need for a holistic approach, which includes disrupting the use of web and social media for promotion of extremist and violent ideologies; preventing the use of religious centres to radicalise youth and recruit terrorist cadres; and promoting tolerance".
"The two leaders expressed strong condemnation of extremism and terrorism in all forms and manifestations, irrespective of who the perpetrators are and of their motivations.
"They reiterated their condemnation for efforts, including by states, to use religion to justify, support and sponsor terrorism against other countries, or to use terrorism as instrument of state policy."
The two leaders also expressed satisfaction at ongoing cooperation between India and the UAE in the identified areas of security, defence and space.
"They committed to augment this cooperation further to promote regional security, peace and prosperity and agreed to further deepen collaborations on maritime security, including joint anti-piracy, training and exercises, cyber space and outer space," the statement said.
The two sides also noted the growing defence cooperation "including through regular high-level visits, training programmes, joint exercises, participation in defence exhibitions and ship visits and port calls".
"The two sides renewed their commitment to work closely to strengthen maritime security in the Gulf and the Indian Ocean region, which is vital for the security and prosperity of both countries," the joint statement said.