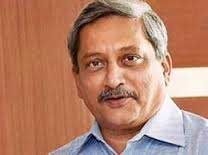 New Delhi, May 18  Defence Minister Manohar Parrikar's visit to United Arab Emirates (UAE) and Oman, for which he was to leave on Tuesday night, has been delayed, sources said.
The minister's Oman visit will now start on May 20, and conclude on May 22. He will reach UAE from Oman on May 22, and will be there till May 23.
Sources said the rescheduling was done following a request from UAE.
Parrikar was earlier to visit UAE from May 18 to 20 – the first time an Indian defence minister is visiting the country, and ahead of a joint exercise between the air forces of India and UAE that is to take place from June 24-28.
India and UAE agreed to strengthen cooperation in a number of areas during Prime Minister Narendra Modi's visit there in August 2015, including security, counter-terrorism, joint defence production, and space cooperation.
Crown Prince of Abu Dhabi and Deputy Supreme Commander of the UAE Armed Forces Sheikh Mohammed bin Zayed Al Nahyan also visited India in February this year.
Indian Naval ships Delhi, Tarkash and Deepak also visited UAE earlier this month.