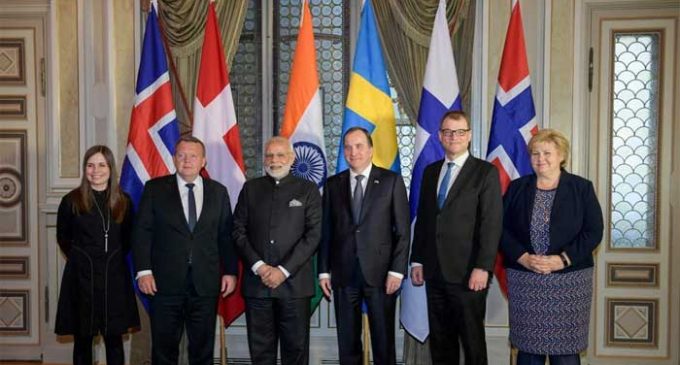 Stockholm, April 18 (IANS) India and the five Nordic nations of Sweden, Denmark, Iceland, Norway and Finland on Tuesday agreed to deepen cooperation in innovation and climate change in the first India-Nordic Summit held here during the course of Indian Prime Minister Narendra Modi's visit here.
"During the Summit, the Prime Ministers pledged to deepen cooperation between India and the Nordic countries and focused their discussions on key issues related to global security, economic growth, innovation and climate change," the Indian External Affairs Ministry said in a statement following the meeting.
"They acknowledged that innovation and digital transformation drive growth in an interconnected world, which underpin a growing engagement between India and the Nordic countries," it stated.
"The Summit emphasized the India's strong commitment to innovation and digital initiatives as key to prosperity and sustainable development, with national flagship programmes such as Make in India, Start-up India, Digital India and Clean India."
Ahead of the Summit, Modi held separate bilateral meetings with his counterparts from Denmark, Iceland, Norway and Finland.
Modi held the first meeting with Danish Prime Minister Lars Lokke Rasmussen.
In a tweet, Indian External Affairs Ministry spokesperson Raveesh Kumar said the two leaders "had a good meeting on renewing and enhancing cooperation and expressed their mutual desire to take the relationship forward".
After the meeting, the two sides exchanged MoUs in the areas of urban development, animal husbandry and dairying, food safety and agricultural research and education.
Modi then met his Icelandic counterpart Katrin Jakobsdottir.
"PM urged Icelandic companies to look at India as an investment destination in blue economy and geothermal energy and strengthen cooperation in education, tourism and culture," Kumar said.
Following the meeting, the two sides signed an MoU on the establishment of an ICCR Chair for Hindi language between the Indian Council for Cultural Relations and the University of Iceland.
Modi then held a meeting with Norwegian Prime Minister Erna Solberg.
According to the Indian spokesperson, the two leaders had an "engaging interaction" on trade and investment, shipping and port-development, blue economy, renewable energy, health, information technology and green transport solutions.
Finally, the Indian leader met Finnish Prime Minister Juhu Sipila.
"We had excellent discussions on deepening avenues of cooperation between India and Finland," Modi said in a separate tweet.
India and Sweden co-hosted the India-Nordic Summit on the second and final day of Modi's visit to Sweden.
For India, Nordic countries are a potential source for clean technology, environmental solutions, port modernisation, cold chain, skill development, innovation among other areas.
According to figures provided by the Indian External Affairs Ministry, India's trade with the Nordic countries totaled around $5.3 billion in 2016-17, with cumulative foreign direct investment in India at $2.5 billion.
Earlier on Tuesday, Modi held a bilateral summit with Swedish Prime Minister Stefan Lofven following which India and Sweden signed a Joint Action Plan and an Innovation Partnership for a Sustainable Future.