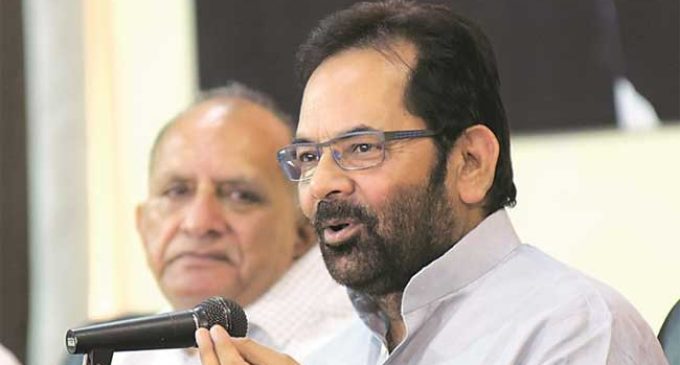 New Delhi, Dec 4  In line with India's philosophy, the government is committed to reach out as widely as possible to the world and trilateral cooperation between India, Japan and Africa is an expression of this policy, Minority Affairs Minister Mukhtar Abbas Naqvi said on Monday.
Addressing industry chamber Assocham organised trade and investment forum here on "India-Africa Trade@2020 and Emerging India-Japan-Africa Triangular Co-operation", Naqvi said it was a measure of the country's Africa policy that saw a record number of African leaders attending the Third India-Africa Forum Summit held here in October 2015.
"Our government is committed to reach out as far and wide as possible, which is why there were so many heads and leaders of African countries who came to India for the last India-Africa Forum Summit.
"In the new India, with a safe and strong economy, we are now speaking of changing the world…in the sense of changing the way that they perceived India up to now," he added.
Earlier this year, India hosted a special session on India-Japan cooperation for the development of Africa at an annual meeting of the African Development Bank (AfDB).
Talks between Prime Minister Narendra Modi and his Japanese counterpart Shinzo Abe in 2016 led to the conceptualisation of the Asia-Africa Growth Corridor (AAGC), which is an important component of the India-Japan Vision 2025 for the Indo-Pacific Region.
Japan is keen to collaborate with India in order to decrease market risks in Africa and both countries agreed, in 2010, to institutionalise the India-Japan Dialogue on Africa.