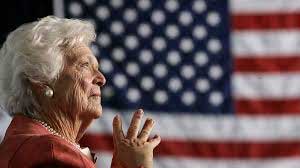 Washington, April 18 (IANS) Barbara Bush, the matriarch of a Republican political dynasty and a former First Lady who elevated the cause of literacy, has died at the age of 92, media reports said.
"A former First Lady of the United States of America and relentless proponent of family literacy, Barbara Pierce Bush passed away on Tuesday at the age of 92," family spokesman Jim McGrath said in a statement.
Barbara Bush is survived by her husband former President George H.W. Bush; sons George W., Neil, Marvin and Jeb; daughter, Dorothy Bush Koch; and 17 grandchildren.
On Sunday, her husband's office issued a statement saying that after consulting the family and her doctors, Barbara Bush had "decided not to seek additional medical treatment and will instead focus on comfort care", reports The New York Times
The Bushes had celebrated their 73rd wedding anniversary in January, making them the longest-married couple in presidential history.
Only the second woman in American history to have had a husband and a son elected President (Abigail Adams was the first), Barbara Bush was seen as a plainspoken public figure who was instantly recognisable with her signature white hair and pearl necklaces and earrings, reports CNN.
She became a major political figure as her husband rose to become first a Vice President (January 20, 1981 – January 20, 1989) and then the 41st US President (January 20, 1989 – January 20, 1993).
He left office in 1993 after losing a re-election bid to Bill Clinton.
After they left the White House, she was a potent spokeswoman for two of her sons — George W. and Jeb — as they campaigned for office.
The mother of six children — one of whom, a daughter, Robin, died as a child from leukemia — Barbara Bush raised her fast-growing family in the 1950s and '60s amid the post-war boom of Texas and the whirl of politics that consumed her husband.
Barbara Pierce was born June 8, 1925, in New York and raised in the upscale town of Rye, CNN reported.
She attended a prestigious boarding school in South Carolina, where she met her future husband at a school dance when she was only 16 and he was a year older.
A year and a half and countless love letters later, the two were engaged just before George H. W. Bush enlisted in the Navy and went off to fight in World War II.
Barbara Bush adopted literacy as a cause, raising awareness and eventually launching the non-profit Barbara Bush Foundation for Family Literacy.
After George H.W. Bush's presidency, he and Barbara raised more than $1 billion for literacy and cancer charities.
A writer, her books include an autobiography and one about post-White House life. Her children's book about their dog, Millie, and her puppies written during her White House years was a bestseller.
In 2001, when George W. Bush took office, Barbara Bush became the only woman in American history to live to see her husband and son elected president.