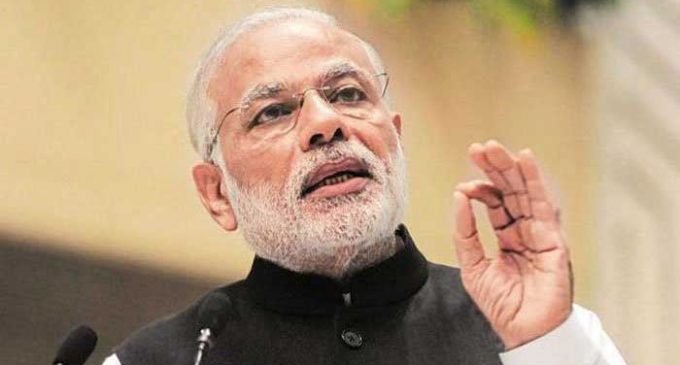 New Delhi, Feb 9  Energy and security cooperation, trade and investment and counter-terror efforts will top Prime Minister Narendra Modi's agenda when he goes on a three-nation tour to West Asia and the Gulf starting on Saturday.
When Modi reaches Ramallah from Jordan's capital Amman, he will become the first Indian Prime Minister to visit Palestine. The Palestinian Presidency, in a pre-arrival welcome statement, has described the upcoming visit as "historic and significant".
This will be Modi's fourth meeting with Palestine President Mahmoud Abbas. They had earlier met on the sidelines of the UN General Assembly in 2015, at the Paris climate summit later that year and during Abbas's visit to India last year.
At a media briefing ahead of the visit, B. Bala Bhaskar, Joint Secretary (West Asia and North Africa) in the Ministry of External Affairs (MEA), said there are four dimensions to the visit to Palestine, one being it is the first prime ministerial visit from India to the West Asian nation.
Secondly, India has contributed immensely to Palestine's nation-building efforts, including infrastructure development and capacity building. Bhaskar said that since the historic visit of then President Pranab Mukherjee to Palestine in 2015, work on projects worth $30 million has commenced.
This apart, the visit is also aimed at deepening the huge bilateral agenda, including cooperation in the areas of health, IT, tourism, youth affairs, sports and agriculture.
The fourth aspect, according to Bhaskar, is India's continuous support to the Palestinian cause at various international fora. India had voted in the UN General Assembly in December last year against US President Donald Trump's unilateral recognition of Jerusalem as Israel's capital.
The visit will also de-hyphenate Israel and Palestine after Modi's standalone visit to Israel last July.
After his Palestine visit, Modi will reach Abu Dhabi in the United Arab Emirates (UAE), which is home to a huge Indian diaspora, on February 10 evening — his second visit after August 2015.
Mridul Kumar, Joint Secretary (Gulf), said Modi will hold talks with the Crown Prince of Abu Dhabi and Deputy Commander of the UAE Armed Forces Sheikh Mohammed Bin Zayed Al Nahyan, following which several agreements will be signed.
The next day, he will meet members of the Indian community, which numbers around 3.3 million in the Gulf nation, and lay the foundation stone of a temple via video link.
From Abu Dhabi, Modi will proceed to Dubai where he will deliver the keynote address at the Sixth World Government Summit, where India is the guest of honour.
He will also meet Vice President and Prime Minister of the UAE and Ruler of Dubai Sheikh Mohammed Bin Rashid Al Maktoum and some select CEOs of companies from Gulf countries. India-UAE ties were elevated to that of a Comprehensive and Strategic Partnership during Modi's visit in 2015.
Stating that the UAE is a key source of energy, Kumar said the relationship has gone beyond buyer-seller to that of energy security cooperation — the UAE was the first contributor to the Indian Strategic Petroleum Reserve, an emergency fuel store. He also said that the UAE has done a lot in meeting India's foreign direct investment (FDI) requirements.
"These include an investment of $500 million in low-cost housing," Mridul Kumar said. "They are also looking at ports, logistic centres and food parks."
The UAE is also the first partner of India's National Investment and Infrastructure Fund and has invested $1 billion as the anchor investor.
From Dubai, Modi will reach Muscat on February 11 in what will be the first prime ministerial visit to that Gulf nation in 10 years. In 2008 then Prime Minister Manmohan Singh had paid a visit to Muscat.
Modi will straightaway head for a large community event at a stadium in the Omani capital. Oman is home to over 800,000 expatriate Indians. He will then hold talks with Sultan Qaboos Bin Said Al Said, who will host a banquet in the visiting dignitary's honour.
On February 12, the Prime Minister will meet a group of Omani CEOs. Two Deputy Prime Ministers of Oman, Sayyed Fahad and Sayyed Asad, will also also call on Modi. Modi will also visit the grand Sultan Qaboos Mosque and a very old Shiva temple.
Kumar said that Oman is a country of strategic importance for India and all three defence forces of the two counties have held joint exercises. The port of Salala is of special importance for India while planes travelling further up in the West get refueling facility in Oman on a regular basis.