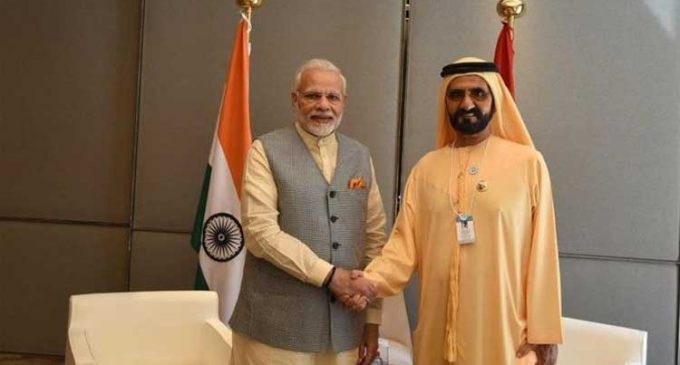 Dubai, Feb 11 (IANS) Prime Minister Narendra Modi on Sunday held an "engaging discussion" with his UAE counterpart Sheikh Mohammed Bin Rashid Al Maktoum on expanding defence and trade ties between the two countries, an Indian official said.
The two leaders also discussed ways to enhance cooperation in investment, security and people-to-people contacts to strengthen "our comprehensive strategic partnership", Indian External Affairs Ministry Spokesperson Raveesh Kumar said after the meeting between Modi and Al Maktoum, who is also the UAE Vice President and the ruler of Dubai.
Dubai is home to a majority of the 3.3 million expatriate Indians in the United Arab Emirates (UAE).
Earlier in the day, Modi addressed a gathering of the Indian community. He also witnessed via videoconferencing the laying of a foundation stone of an Indian temple to be constructed on the Dubai-Abu Dhabi highway.
He also paid tributes at the UAE war memorial Wahat Al Karama near Abu Dhabi.
After visiting Palestine earlier on Saturday, Modi arrived in Abu Dhabi later in the evening on the second leg of his West Asia and the Gulf visit.
The Indian Prime Minister also held delegation-level talks with the Crown Prince of Abu Dhabi and Deputy Commander of the UAE Armed Forces Sheikh Mohammed Bin Zayed Al Nahyan.
The two sides signed five agreements on Saturday, including a historic one on energy cooperation that awarded a consortium of Indian oil companies led by ONGC Videsh a 10 per cent interest in Abu Dhabi's offshore Lower Zakum concession.
This is Modi's second visit to the UAE after a 2015 trip.
After Dubai, Modi will leave for Oman on the third and final leg of his tour.