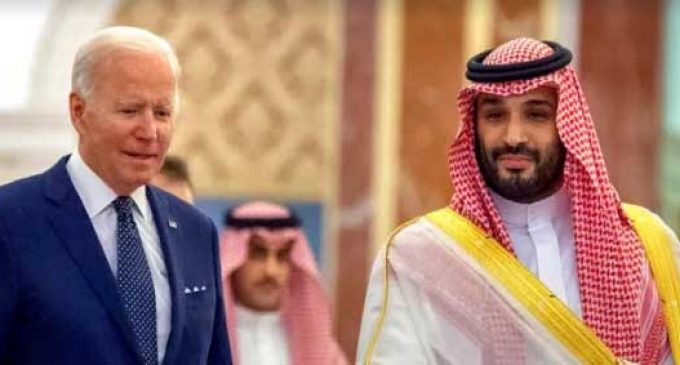 US House of reps to vote tomorrow and thereafter Biden to sign of on the $750 billion legislation to make it national law
By TN Ashok 
WASHINGTON, Aug 11: – Us President Joe Biden's omnibus legislation on climate change, health care and inflation reduction comes up for debate and vote in the 435 member house of representatives (equivalent of lok sabha) and is being considered american history's most significant legislation to be signed by any US President.
Why? US President Joe Biden 1st proposed a Build Back Better initiative to take America to a great future. What does the BBB initiative mean? The utopian idea was toBuild Back the US in terms of its economy, socially and culturally without inequalities and helping the poor with health care and aiding the world to control carbon emissions which was threatening sustainable development goals of the United Nations convention on climate control.
The bill , passed by the senate 51;50 in the Senate with the tie breaking vote of VP Kamala Harris, an Indian origin Afro American, was enabled through a budget reconciliation process — that's if its budgets are to be approved for timely action without encountering the threshold 60 votes filibuster of the republicans who could have voted out the bill from consideration. The bill was enacted by a simple majority.
The Congress thus moved much closer to the passage of President Joe Biden's much articulated but modified Build Better Back initiative on climate, health care and tax spending as bleary eyed senators worked throughout a Saturday night a series of amendments to a wide-ranging bill that was eventually adopted by the senate with 50 votes plus the tie breaking vote by VP Kamala Harris. . 
For Democrats, the long hours paid off when the Senate eventually passed the inflation reduction bill originally proposed by President Joe Biden and adopted with several amendments including senator Joe Manchin and Krysten Sinema's amendments on the financial provisions. The senators worked bleary eyed through Saturday and wee hours of Sunday to push the bill.
The senate saw a rare weekend session for the Democrats to push hard to pass their ambitious bill known before leaving Capitol Hill for their traditional August recess. Democrats advanced the bill, called the Inflation Reduction Act, through the budget reconciliation process, which means they had to clear a few procedural hurdles to send the bill to the House for expected passage and eventually President Joe Biden's desk.
What's the budget reconciliation process? 
Senate Democrats used the budget reconciliation process to move the bill, allowing them to avoid the 60-vote threshold to overcome a Republican filibuster. The process allowed the bill to pass with 50 votes, meaning all they needed was a strict-party line vote with their 50-50 majority (Vice President Kamala Harris cast the tie-breaking vote). No Republicans supported the final version.
The process had one major caveat – provisions in the bill must be related to the budget in some capacity. Any bill that is on track to reconciliation must first go through the Senate Parliamentarian, who combs through the bill for any violation of what's been dubbed the Byrd Rule. It was named after Virginia Democratic Senator Harry F Byrd, considered a fiscal hawk.
New York Times described the democrat's victory as being within a shouting distance of getting the climate change bill endorsed which has wide ranging provisions on carbon emissions and tax breaks for using non fossil fuels and electric vehicles instead of gasoline driven cars.
The bill will "lower costs for American families. It's going to address some of the basic need's families have been having for generations in terms of daily costs of life that are too expensive that are going to be lowered because of this work," VP Kamala Harris told reporters after casting the tie-breaking vote. 
Once debate ended, a "Vote-a-Rama" on amendments to the bill began. Independent Senator from Vermont Bernie Sanders, a former presidential candidate, had called the voting process a circus of Vote a Rama after he was disappointed that sen majority leader Schumer had made the BBB initiative of Joe Biden tepid with the amendments of Manchin and Sinema.  Original bill of Joe Biden involved a near $ 3 trillion spend but Schumer shaved it to $1.9 trillion in public expenditure after placating opponent from the home turf senator Joe Manchin of West Virginia, concerned that the huge public send would increase inflationary pressures on the economy, and Arizona democrat Krysten Sinema wanting carried over interests tax scrapped and replaced with a flat 15% tax on corporate house that would yield much more revenues to the government.
What's a vote-a-rama? In a vote-a-rama, senators can offer up an unlimited number of amendments to a bill but the process is expedited. There is only one minute allocated for debate, equally divided between both sides. Then, senators are given 10 minutes to vote. This process repeats for every single amendment. The first amendment was offered by Sen. Bernie Sanders, I-Vt., shortly after 11:30 p.m. Saturday. His proposal would have sped up Medicare's ability to negotiate lower pharmaceutical costs and expanded the list of drugs on which they could impose price caps. It failed 99-1. 
US President Joe Biden's modified Build Back Better (BBB) initiative is a historic step forward as it makes health care more affordable to the poor, lowering prescription drug prices, and addresses the world's most pressing crisis of greenhouse emissions and how to reduce them to 40 per cent by 2030.
The climate provisions in the bill are likely to be more consequential than anything else in the bill. They will lead to a sharp reduction in US greenhouse gas emissions, experts say, and help address arguably the world's most pressing crisis.
But the other main spending portion of the bill – dealing with health care – is significant in its own right, and it has received much less attention, says David Leonhardt, a columnist, in the New York times in analysis of the historic legislation.
On both the substance of the health care provisions and the politics of them, he said: "The provisions of the bill appear to be the most substantial changes to health policy since the passage of Obamacare in 2010."
They are all but certain to become law, too. In the coming days, the House Democrats are expected to pass the same bill that the Senate did, and President Biden has made clear he will quickly sign it, says the NYT.
The bill sets out to reduce Americans' medical costs in two main ways. First, it uses federal subsidies to reduce the cost of both health insurance and prescription drugs. Second, the bill gives Medicare officials the power to negotiate with pharmaceutical companies, which will likely reduce the price that the companies charge for those drugs. Insulin dosage per unit is capped at $35.
For these reasons, the bill is effectively an effort to use the health care system to reduce economic inequality, much as Obamacare was. The bill's benefits will flow overwhelmingly to poor, working-class and middle-class families. Its costs will be borne by increases in corporate taxes (which ultimately fall on shareholders, who skew wealthy) and reductions in the profits of pharmaceutical companies.
Some critics of the bill have argued that these profit reductions will lead pharmaceutical companies to spend less money developing future drugs and, in turn, to fewer promising treatments. And that's a plausible concern, as per NYT as economic incentives matter.
But most experts believe that the pharmaceutical industry will remain plenty profitable even after the changes. The Congressional Budget Office – a nonpartisan body – estimates that the law will reduce the number of new drugs introduced over the next 30 years by about 1 percent.
As per the bill's main provisions and its benefits: With Medicare officials allowed to negotiate drug costs, it will mostly reduce Medicare's spending, and thus, reduce the federal budget deficit. But there will probably be spillover into out-of-pocket costs, especially for people in Medicare.
The bill sets a $2,000 annual cap on the amount of money that any senior citizen pays for drugs. After the cap is hit, the federal government, private insurers and drug companies combined will pay the remaining bills. Today, drugs for cancer, multiple sclerosis, rheumatoid arthritis and some other diseases can cost people much more than $2,000 a year. The new provision will take effect in 2025 and will save a small percentage of older Americans thousands of dollars a year.
The bill caps out-of-pocket insulin expenses at $35 a month for people in Medicare; many now pay more than $50 a month. The bill also makes adult vaccines free for both seniors and people in Medicaid, starting next year.
For middle- and lower-income people, who buy private health-insurance plans through the Obamacare exchanges, federal subsidies will increase for three years. This change will help about 13 million people.
The political effects of the bill seem however seem less clear, the NYT says, citing political scientist Suzanne Mettler who contends that many forms of modern government remain "submerged" as Americans often do not realize when a federal policy is helping them, because the benefits come through tax credits or other shrouded forms.
Some of the benefits will flow through private insurance plans that people may not associate with a government programme, Cuban ski notes. Other provisions won't take effect for a few years. Still others will spare people from facing a large medical bill, but they may not be aware that they wouldn't have faced such a bill if Congress had not passed a new law.
All of which suggests that the law's proponents will still have work to do after the House passes it and Biden signs it.