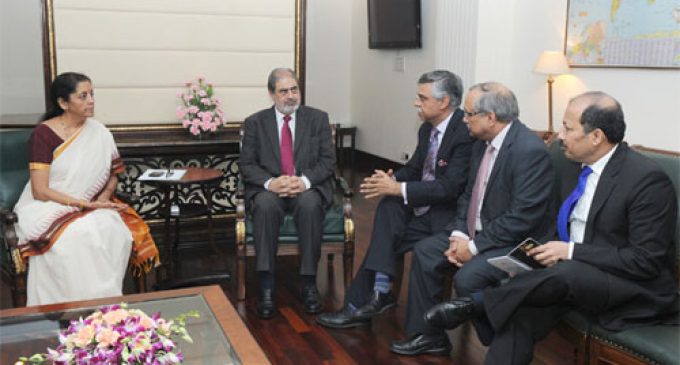 New Delhi Aug 8 The biggest barrier to normalising relations between India and Pakistan is the issue of visa, business leaders from both sides said here Friday as foreign secretaries of the two countries prepare to meet later this month.
"The biggest non-tariff barrier between both countries is the issue of visa. When businessmen don't meet, you can't do business," Syed Yawar Ali Shah, co-chairman India-Pakistan Joint Forum (IPJF), told reporters here at the end of a two-day IPJF meeting.
Emphasising that both countries first need to learn to walk – "chalne sikhna" – Shah, a former CEO of Nestle Pakistan, added: "The visa regime is a key area and we need to open up."
The IPJF, a private sector-led body notified by both governments, was meeting for the first time after the NDA government assumed power, under the aegis of the Confederation of Indian Industry (CII) and the Pakistan Business Council (PBC).
The four task forces on various sectors that made presentations in this edition of the IPJF have all recommended for an easier visa regime.
"There is a special task force on connectivity and visa facilitation, as this is vital for business as well as for peace between both countries," Shah said.
The other task forces that made recommendations dealt with agriculture, auto and the banking and financial services sectors.
"We identify the bottlenecks and jointly make recommendations to the government," said co-chair from India, Sunil Kant Munjal of Hero Corporate Services.
IPJF has identified 10 areas of cooperation: Agriculture; automotive and engineering; chemical and petrochemicals; infrastructure; pharmaceuticals; information technology; textiles; education and vocational training; healthcare, and dispute resolution and trade facilitation.
The meeting dealt with non-discriminatory markets access, relaxing business visa regime and easing of non-tariff barriers.
The task force on auto and engineering is currently examining a list of auto components that can be traded.
"We are trying to identify what components India can export to Pakistan, which other countries are already exporting," said Sikandar M. Khan, chairman Pakistan Business Council.
Foreign secretaries of India and Pakistan are scheduled to meet Aug 25 in Islamabad, where the issue of granting India the most favoured nation (MFN) status would be taken up.
India and Pakistan have no formal bilateral trade agreement. India granted the MFN status to Pakistan in 1996, while Pakistan is yet to reciprocate.