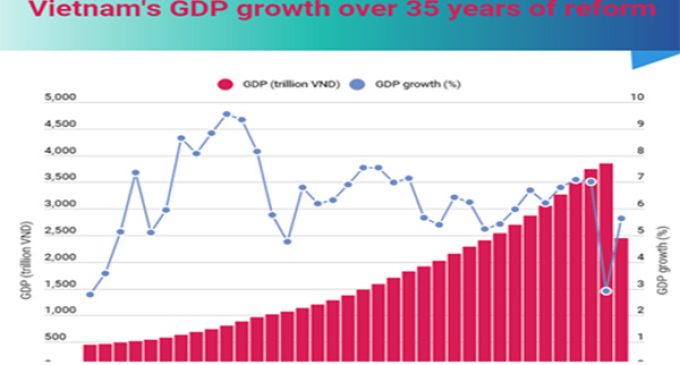 Rajan Kalsotra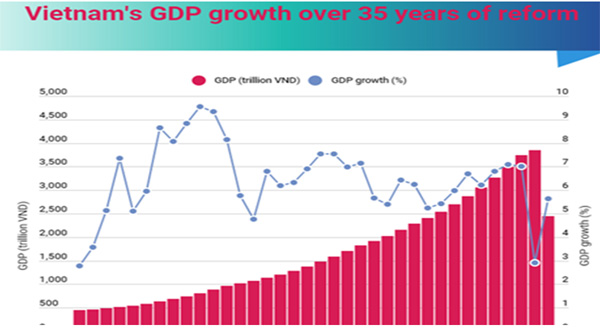 Vietnam's development journey has been truly remarkable, standing out as a shining success story. By initiating economic reforms through Đổi Mới in 1986, and benefiting from favorable global conditions, Vietnam has swiftly transformed itself from a nation entrenched in extreme poverty to a middle-income economy in a remarkably short span of time.
The country has consistently achieved strong GDP growth rates. From 2011 to 2021, the country's average annual GDP growth rate was approximately 6.0%. In 2020, despite the adverse impact of the COVID-19 pandemic on the global economy, Vietnam managed to record a growth rate of 2.91%. This resilience can be attributed to the government's effective containment measures and its focus on promoting domestic consumption and investment.In 2022, the country's GDP expanded by 8.02%, making it one of the fastest growing economies in the world.
Vietnam's success in poverty reduction is another significant achievement. Over the years, the country has made substantial progress in alleviating poverty. According to the World Bank, the poverty rate in Vietnam decreased from 58% in 1993 to a mere 4.4% in 2021. This remarkable improvement has positively impacted the lives of millions of people, lifting them out of poverty and enhancing their living standards.
Foreign Direct Investment (FDI) inflows have played a vital role in Vietnam's economic development. The country's favorable business environment, competitive labor costs, and strategic location have attracted significant foreign investment. In 2020, despite the global economic downturn caused by the pandemic, Vietnam received approximately USD 28.5 billion in FDI. In 2021, the FDI inflow in the country reached USD 31.2 billion. This demonstrates the confidence of international investors in Vietnam's economy and its potential for growth.
Vietnam's robust export sector has been instrumental in driving economic growth. The country has emerged as a major player in global trade, with a focus on manufacturing and exports. In 2020, despite the challenges posed by the pandemic, Vietnam's total export value reached around USD 292 billion. Value of Vietnam's exports for 2021 was USD 341 billion, a 16.8% increase from 2020. Key export sectors include textiles, electronics, agricultural products, and footwear.Preliminary government estimates suggest that in 2022, the country's exports reached approximately USD 372 billion, resulting in a trade surplus for the year.
Vietnam's foreign exchange reserves have been consistently rising, indicating the country's economic strength and stability. As of December 2021, Vietnam's foreign reserves stood at approximately USD 109 billion, providing a cushion against external shocks and contributing to overall economic resilience.
 Vietnam's Economic Success: A Testament to Strong Leadership
The country's leadership has played a pivotal role in implementing effective economic policies that have fueled Vietnam's growth. The government has pursued a strategy of economic liberalization and market-oriented reforms, which have attracted foreign investment and stimulated domestic production. The leadership has actively encouraged entrepreneurship and created a favorable business environment, resulting in a surge of private enterprises and foreign direct investment.
Moreover, Vietnam's leadership has demonstrated a long-term vision for economic development. They have focused on diversifying the economy by promoting industrialization, modernization, and technology adoption. This has led to the rise of key sectors such as manufacturing, electronics, textiles, and agriculture, contributing significantly to Vietnam's export-driven growth.
Furthermore, the leadership's commitment to regional and international integration has provided Vietnam with access to larger markets and opportunities for trade and investment. The country's participation in free trade agreements, such as the Comprehensive and Progressive Agreement for Trans-Pacific Partnership (CPTPP) and the European Union-Vietnam Free Trade Agreement (EVFTA), has enhanced Vietnam's competitiveness and opened up new avenues for economic expansion.
Vietnam's Market Development: Harmonizing International Standards for Investor-Friendly Environment
Vietnam has emerged as a shining example of a nation committed to the development of its financial, monetary, and securities markets in line with international laws and practices. By striking a delicate balance between regulatory oversight and minimal interference in economic activities, the country has consistently created favorable conditions for investors, businesses, and business partners, bolstering its position as an attractive investment destination.
With a determined focus on market development, Vietnam has placed considerable emphasis on fortifying its financial infrastructure. The State Bank of Vietnam (SBV), serving as the central bank, has spearheaded efforts to strengthen the banking sector, refine monetary policies, and ensure financial stability. Through enhanced transparency, improved risk management, and elevated governance standards within financial institutions, Vietnam has fostered an environment conducive to sustainable growth.
Vietnam's securities market has undergone significant growth and transformation, propelled by a commitment to regulatory excellence. Playing a pivotal role in regulating and supervising the market, the State Securities Commission (SSC) has worked tirelessly to align Vietnam's securities laws and practices with international standards. This alignment encompasses vital aspects such as disclosure requirements, trading mechanisms, and corporate governance practices, enabling investors to operate with confidence and trust.
Foreign investment promotion stands as a central tenet of Vietnam's economic strategy. The government has implemented a suite of policies designed to create a business-friendly ecosystem, featuring tax incentives, streamlined procedures, and improved infrastructure. Furthermore, Vietnam has actively pursued bilateral and multilateral trade agreements, facilitating international investment and trade flows.
Recognizing the significance of investor protection, Vietnam has fortified its legal framework to safeguard the rights and interests of investors. Measures have been enacted to combat insider trading, market manipulation, and other fraudulent activities, ensuring market integrity. The SSC remains proactive in monitoring and enforcing regulations, thereby cultivating an atmosphere of trust and reliability.
Vietnam's commitment to liberalizing its capital markets has been pivotal in attracting foreign investment. Through progressive relaxation of restrictions on foreign ownership limits, simplified procedures for capital repatriation, and encouragement of state-owned enterprise listings, Vietnam has broadened the scope for international investors, fostering diversification and bolstering economic growth.
Collaboration with international organizations has been instrumental in Vietnam's pursuit of best practices. Engagements with entities such as the International Monetary Fund (IMF), World Bank, and Asian Development Bank (ADB) have facilitated knowledge exchange, technical assistance, capacity building, and policy advice, enabling Vietnam to navigate its market development journey effectively.
Forging a Robust Bilateral Alliance between Vietnam and India:Setting New Goals for a Transformative Future
Vietnam-India relations have witnessed significant achievements in recent years. Both countries have deepened their comprehensive strategic partnership through enhanced cooperation in various sectors. Bilateral trade has flourished, with increased exchanges and investment in key industries.In 2022, bilateral trade between the two countries reached around USD 15 billion.
Defence and security ties have been strengthened through joint exercises and collaborations. India's Defense Minister visited Vietnam in June 2022, advancing defense cooperation. Key agreements, including the "Joint Vision Statement on India-Vietnam Defence Partnership towards 2030" and the "Memorandum of Understanding on Mutual Logistics Support," were signed, strengthening bilateral defense ties.
Cultural and educational exchanges have fostered greater understanding and people-to-people connections. After the easing of Covid-19 disruptions and the resumption of direct flights in October 2020, two-way tourism and people-to-people exchanges between India and Vietnam have received a boost. Direct flights by Indigo, Vietnam Airlines, and Vietjet Air connect multiple cities, supported by a simplified e-Visa regime for travel, tourism, business, and cultural purposes.
The comprehensive strategic partnership between Vietnam and India holds immense potential for furthering cooperation in the fields of economy, finance, currency, and securities. Both countries have recognized the significance of bilateral relations and are committed to strengthening their ties. In this regard, several prospects and directions can be explored to promote collaboration in these domains.
Firstly, enhancing economic cooperation is crucial. Vietnam and India can focus on expanding bilateral trade and investment by facilitating business exchanges, trade fairs, and investment summits. Streamlining trade procedures, reducing barriers, and creating a favorable environment for businesses to operate will contribute to increased economic engagement.
Secondly, infrastructure development presents significant opportunities for collaboration. Joint ventures, technology sharing, and knowledge transfer can play a vital role in areas such as transportation, energy, and telecommunications. By pooling resources and expertise, both countries can undertake large-scale infrastructure projects for mutual benefit.
India and Vietnam have been collaborating on offshore energy projects in the energy-rich South China Sea (SCS) since the late 1980s. The partnership between ONGC Videsh Limited (ONGC-VL) and PetroVietnam (PVN) has resulted in the discovery of two large gas fields, namely Lan Do and Lan Tay, with estimated natural gas reserves of up to 58 billion cubic meters.The presence of abundant oil and gas reserves in the South China Sea presents an opportunity for India to meet its energy needs and reduce its reliance on the Russian markets for imports. By tapping into these resources, India could potentially decrease its oil import dependence and ensure a more sustainable energy supply.
Furthermore, the Indian conglomerate, Essar Group, and ENI have significant investment in Block 114, which is situated in the offshore region of Central Vietnam. With an estimated oil and gas resource of around 2 billion barrels, Block 114 stands as a highly promising site. Development of the block 114 is of utmost importance for energy interests of Vietnam. The commercial production of gas and condensate from this block will be a key strategic benefit for the central region of Vietnam.
Thirdly, the agriculture and agro-processing sectors offer avenues for cooperation. Sharing best practices, promoting agricultural research and development, and facilitating the trade of agricultural products can strengthen ties and enhance food security. Additionally, joint efforts in value addition and agro-industry development can open up new avenues for trade and investment.
In the financial sector, both countries can foster cooperation by promoting collaboration between their respective banks, financial institutions, and regulatory authorities. Sharing experiences in banking supervision, facilitating cross-border transactions, and exploring opportunities for joint ventures can enhance financial services and deepen economic integration.
Currency and securities cooperation is also essential. Vietnam and India can strengthen ties in these areas by fostering collaboration between their central banks. This can involve currency swaps, clearing arrangements, and regulatory frameworks that facilitate trade and investment flows, while ensuring financial stability.
Technology and innovation collaboration can be a key driver of economic growth. Vietnam and India can explore partnerships in areas such as information technology, digital transformation, and research and development. Promoting startup ecosystems, fostering innovation hubs, and facilitating technology transfer will further strengthen ties in this domain.
Lastly, tourism and cultural exchanges play a vital role in enhancing mutual understanding and people-to-people connections. Encouraging tourism packages, cultural events, and student exchanges will deepen cultural ties and strengthen the comprehensive strategic partnership./.
 Views are personal. Rajan Kalsotrais an independent economist and policy consultant.