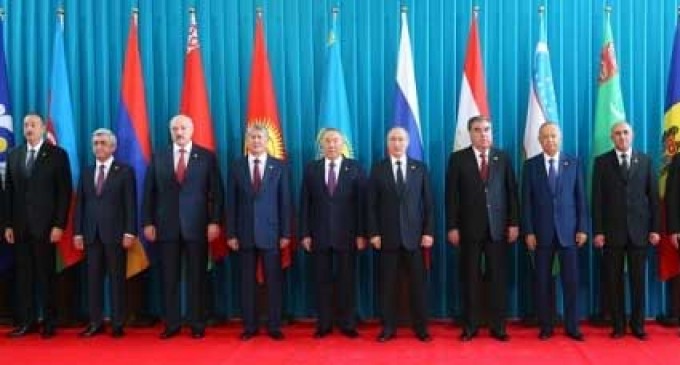 President of Uzbekistan Islam Karimov participated in the session of the Council of the heads of states of the CIS, which was held in Buribai village (Kazakhstan) on 16 October.
At the session, the sides discussed several international issues of mutual interest and perspectives of developing multilateral cooperation in humanitarian, law enforcement and military spheres. The sides signed corresponding agreements and decisions, the press service of the CIS Executive Committee said.
In particular, they adopted a statement on the 70th anniversary of the UN and a statement on fighting international terrorism, as well as appeal in connection with the 30th anniversary of accident at Chernobyl nuclear power station.
The CIS leaders presented information on legal support of migration processes in the CIS and contribution of the Inter-parliamentary Assembly of the CIS in developing international cooperation in the migration sphere.
The sides also discussed implementation of inter-governmental programme "Cultural capital of the Commonwealth", directed at expanding and strengthening cultural relations among the CIS states and creation of favourable climate for economic and political cooperation of the CIS. Within the realization of the programme, the sides adopted decision to name Dashoguz (Turkmenistan) as the cultural capital of the CIS in 2016.
At the session, the sides considered interaction in legal sphere. The sides signed an agreement on cooperation of the CIS in preventing and liquidating emergency situations.
The concept of military cooperation within the CIS states till 2020 was approved. The document includes goals, tasks and projects on further developing multilateral military cooperation directed at preserving good neighborhood relations, strengthening trust and developing national armed forces, etc.
The CIS leaders also discussed several issues of border cooperation. The sides approved a programme of cooperation of the CIS on strengthening security at external borders for 2016-2020. The programme stipulate implementation of complex measures on creation of single information area for border bodies of the CIS, provide timely assistance in improving external borders, train skilled cadres, etc.
The participants also considered some organizational issues. The next session of the Council of the heads of the states of the CIS will be held in Kyrgyzstan on 16 September 2016.