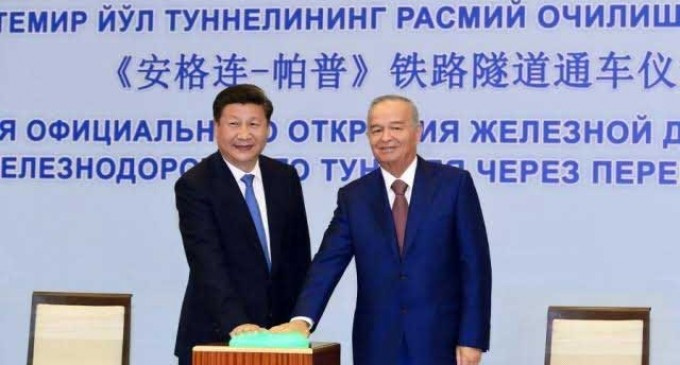 A ceremony, devoted to completion of a large prospective project of Uzbek-Chinese cooperation, the official opening of the electrified Angren-Pap railway line and the Qamchiq tunnel, took place at the UzExpoCentre on 22 June. President of the Republic of Uzbekistan Islam Karimov and President of the People's Republic of China Xi Jinping took part at the event.
The head of our state underlined that implementation of this largest project is a big achievement for Uzbekistan, a significant and unforgettable historical event.
Workers, engineers, specialists from Uzbekistan and China worked side by side in the construction process, demonstrating high professionalism and mastery. This facility meets the highest international standards and is considered a unique project in the international practice. The launch of the Angren-Pap electrified railway line helps to save time and money on transportation of goods, while dramatically increasing the transit, manufacturing and infrastructure capabilities, thus it will serve to further develop Uzbekistan's economy, President Islam Karimov said.
President of Uzbekistan Islam Karimov and Chinese President Xi Jinping with a touch of a special button switched the semaphore on, allowing a passenger train of the "Uzbekistan temir yo'llari" JSC pass through the Qamchiq tunnel on the Angren-Pap electrified railway line …
From the first years of Uzbekistan's independence, the issues of opening new routes to world markets, creation of modern transport communications, connecting our country with other regions of the world, have been placed high on the agenda. A big attention was paid to construction of railways and creation of a united railway network of Uzbekistan.
The construction of the Navoi-Uchquduq-Sulton Uvaystog-Nukus railway line and a modern bridge for vehicle and railway movement across the Amudarya were the first step in this effort.
Later a unique facility, titled "the miracle of the century", the Tashguzar-Boysun-Kumkurgan railway line was commissioned. This has become another significant stage in creation of a united national railway network in our country.
Railways are a main transport artery of any country. It should be highlighted that thanks to efforts of Uzbek railway workers in recent years 1200-kilometers long new railway network has been built, over 3800 km of railway lines have been modernized and reconstructed, about 1100 km of railways have been electrified. As a result, the total length of railways, embracing all regions of our country, reached 6500 km.
Since establishment of the "Uzbekiston temir yo'llari" JSC, the volume of cargo transportation has increased by 1,5 times, passenger transportation by 1,3 times. In 2015 almost 82 millions tons of cargo and 20,1 million passenger were transported via railways, which attests to the increasing potential and possibilities of this sector. At present over 60 per cent of all cargo and 75 per cent of passengers are carried via railways.
Uzbekistan railways, as a major part of transregional transport corridor, have a worthy place in the system of international railway transportation. After all, the main railway lines of our country have a great transport, communication and transit potential, bringing together the East and the West, the South and the North.
Uzbekistan and China are actively developing cooperation in the sphere of transport communications, along with other areas. Delivery of modern high performance electric and diesel locomotives with high technical parameters, made in China, to our country serves as a vivid example of mutually beneficial cooperation.
Construction of the shortest railway line between Uzbekistan and China is one of the strategic areas of partnership. This will provide a way out for China to Central Asian states, and then to South Asia. The new Angren-Pap electrified railway line will act as a bridge in this direction. The total cost of the tunnel, which was built in collaboration of "Uzbekistan Temir Yo'llari" JSC and China Railway Tunnel Group, amounted to 455 million US dollars.
The launch of the Angren-Pap electrified railway line, running through the Qamchiq pass at an altitude of 2200 meters above sea level, will link the Fergana valley regions with other regions of our country. In addition, it will serve as an important part of the new China-Central Asia- Europe international transit rail corridor.
Over a thousand workers and specialists of China Railway Tunnel Group, more than three thousand railway workers and three hundred linemen from Uzbekistan took part in the construction of the new line. Highly qualified builders have worked selflessly in harsh climatic conditions for 32 months.
A tunnel with a length of 19.2 kilometers has been built on the Qamchiq pass of the 123.1-kilometer long Angren-Pap railroad. 43 million cubic meters of excavation works, 16.3 million cubic meters of drilling and blasting operations were carried out. Besides, 285 infrastructure facilities were mounted and water pipelines were laid, 15 railway bridges with a length of 2.1 kilometers and an average height of 25 meters, as well as six overpasses have been built.
The Angren-Pap electrified railway line will play an important role in the further economic development of our country, improving the welfare of our people. This is confirmed by the following data.
According to preliminary estimates, this year alone services will be provided to 600 thousand passengers on this railway. 4000 people were provided jobs during the construction period, the launch of the railway will create additional 1.5 thousand new jobs.
– 25-30 years ago it was impossible to imagine that the railway will be laid here. It was hard to believe that through the towering cliffs, deep gorges and Qamchiq pass, a train can go, said a 79-year old veteran from Parkent district of Tashkent region Soliddin Salohiddinov. – It has become a reality thanks to the dedication, a strong will and hard work of our people, and far-sighted policy initiative of the President of our country.
In general, the Qamchiq railway tunnel is rated the eighth in terms construction complexity, and 13th in the world and the first in the CIS for its length.
… It took 16 minutes for the train to pass through the tunnel with a distance of 19.2 km.
A videolink has been established between the UzExpoCentre and the Qamchiq tunnel.
Chairman of China Railway Tunnel Group Yuy Baoling and the Chairman of the Executive Board of the Uzbekiston temir yo'llari JSC Achilboy Ramatov informed about the readiness to launch of the Angren-Pap electrified railway line and the Qamchiq tunnel.
At the ceremony, Chinese President Xi Jinping said that this project is a significant result of cooperation between Uzbekistan and China and another example of close friendship between our peoples.
China and Uzbekistan are friendly neighbors, close friends and reliable partners, our country appreciates the sincerity in our relationship. Together we will achieve even greater success in the future, meeting the interests of our peoples. We are confident that the prospects of cooperation between Uzbekistan and China will be even broader and brighter, said Xi Jinping.
The implementation of such a large-scale project as the construction of the Angren-Pap electrified railway line, will serve to strengthen the economic power of our country, increase its transit and tourist potential, improve the railway industry, raise multifaceted strategic relations between Uzbekistan and China a qualitatively new level.