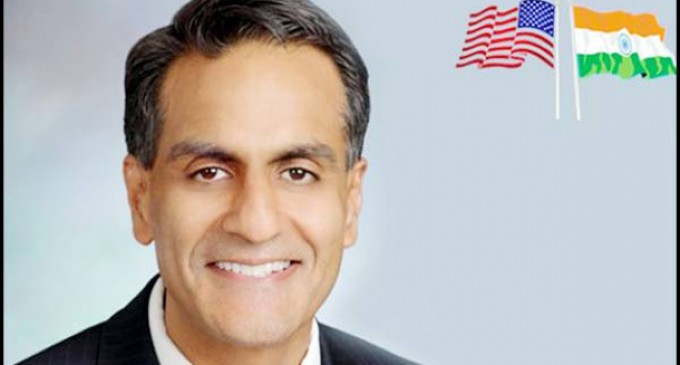 New Delhi, Sep 14 (IANS) The US on Wednesday said it is keen to sign a Bilateral Investment Treaty with India in order to boost investor confidence and help increase bilateral trade.
"I continue to believe that a bilateral investment treaty between the two countries will help boost investor confidence and establish effective dispute resolution so that companies and investors searching for destination can put their money," US Ambassador to India Richard Verma said at an Indo-US Economic Summit here organised by the Indo-American Chamber of Commerce.
"I feel they want to know if there is a treaty or a system in place where they can resolve disputes and protect their investments. And we don't have that with India. We have bilateral investment treaty with dozens of other countries, but we would like to certainly have one with India," he said.
Noting that India and the US are targeting to raise bilateral trade to $500 billion, Verma said that unless there is a push for innovation in India, it will take years to reach this target.
"We would have to use the latest technology and innovation both at the level of the government and the private sector," he said.
"If we want the best innovative technology, we would need an IPR (Intellectual Property Rights) regime to protect it. A policy reform like the Bankruptcy Bill will be helpful to first-time innovators," the Ambassador added.
The US has been critical of India for not bringing in strong laws to protect intellectual property. Last year, India rejected the US annual report on intellectual property rights and patents, describing it as a "unilateral" action "inconsistent" with global trading rules.
Verma described India as a country with great potential that is expected to become the world's third-largest economy by 2030.
"We look forward to reforms in bankruptcy, establishment of commercial courts for settling contractual disputes, and liberalisation of FDI. By 2030, India will lead the world in every category," he said.
"There are no doubts about the pace, intensity and scope of Indo-US relations. Between August 29 and September 8, both the governments have engaged actively in dialogue, signing agreements in health, science and defence," he added.