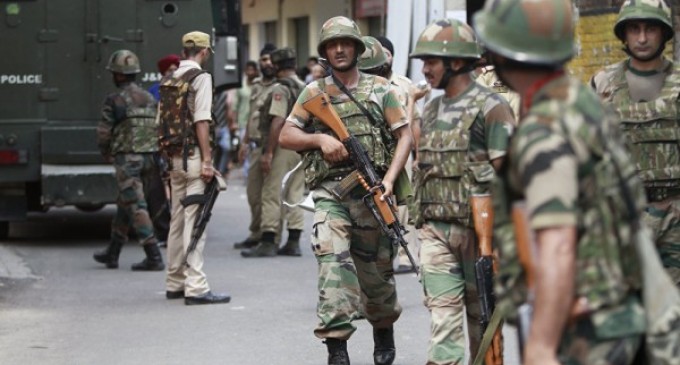 New Delhi, Sep 19 (IANS) The government at the highest level mulled its options in the wake of the Uri terror attack, with informed sources indicating that Prime Minister Narendra Modi has sought a concerted global effort to diplomatically isolate Pakistan as an immediate step.
Modi, who chaired a meeting here on Monday to review the situation in Jammu and Kashmir in the wake of the attack that left 18 soldiers dead — one more soldier succumbed to his injuries in Delhi — wants clear evidence of Pakistan's complicity to be presented to all major global fora, including the upcoming UN General Assembly, the sources indicated.
The meeting was attended by Home Minister Rajnath Singh, Finance Minister Arun Jaitley, Defence Minster Manohar Parrikar, National Security Adviser Ajit Doval, Army Chief Gen. Dalbir Singh Suhag and other senior officials in the PMO, Defence Ministry and the Home Ministry.
The meeting is believed to have also considered several other options, the sources said, but these were likely to be measured and well thought-out.
At the meeting, the Prime Minister was also briefed about the use of "incendiary" ammunition by the terrorists, though such ammunition can be found only with army establishments, a source said.
Such ammunition, experts believe, points to the backing the terrorists received from the Pakistan Army.
The sources said that Modi asked the security and other investigative agencies to collect all evidence that points to Pakistani involvement in the attack for presentation at international fora.
The sources said the broad thinking was that India must act without getting into the trap of emotions and anger after taking into account both the short- and long-term implications.
Speaking to reporters separately, Minister of State for Home Kiren Rijiju said India was not concerned about Pakistani denials and reactions and will react appropriately and at its own pace.
"Everything is in front of the people. We must not give much attention to Pakistan's reaction. We will take our steps carefully," Rijiju said.
Modi's high-level meeting was held shortly after Rajnath Singh reviewed the situation along the border and the Line of Control (LoC) at a meeting with Home Ministry officials who were directed to coordinate with other border states like Punjab, Rajasthan and Gujarat.
In Punjab, the border districts have been put on high alert.
India has put the blame on Pakistan for the Sunday morning attack, with the Prime Minister asserting that the perpetrators will not go unpunished.
Pakistan has rejected Indian allegations that Islamabad was to blame for the killing of soldiers at the camp near Uri town on Sunday.
Modi is under pressure to live up to his 2014 election campaign rhetoric of showing Pakistan that India is not a "soft power" and would give a "befitting reply" to any attacks on the country.
Expectations of appropriate action were raised when Modi himself said soon after the attack: "I assure the nation that those behind this despicable attack will not go unpunished."