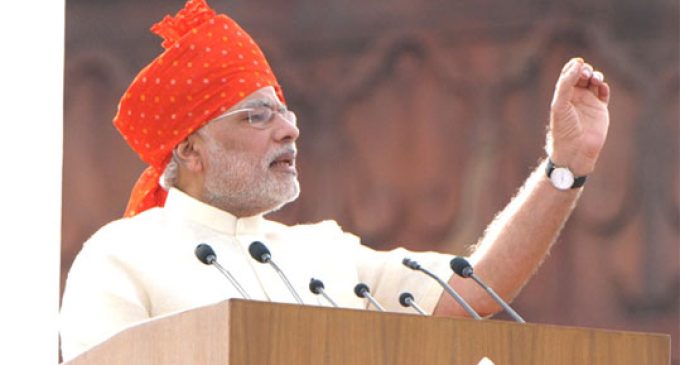 New Delhi, Aug 15 Prime Minister Narendra Modi Friday urged South Asian countries to work together to remove poverty from the region, praised Nepal for setting an example for renouncing violence but did not mention Pakistan in his Independence Day address.
In his speech from the ramparts of the Red Fort, Modi mentioned Nepal and Bhutan but did not name any other country.
He said he went to Nepal recently and talked about the youths of the country who had opted for the path of violence but were now waiting for their constitution.
Modi said he also noted that if Nepal could present the best example of moving from weapons to books, it could provide inspiration to misguided youths in the world to abandon the path of violence.
He said if Nepal can give a message to the world, India can do the same and urged people who took to the path of violence, whether as Maoists or militants, to renounce the path to take that of brotherhood.
The prime minister said India's foreign policy, a much-debated issue, can be multi-dimensional.
Calling upon people of the country to resolve to eradicate poverty, Modi said India's neighbours also faced the same problem.
"Why not get together with all the SAARC nations to plan out the fight against poverty?" he said, and called upon the member-states of South Asian Association for Regional Cooperation: "Let's fight together and defeat poverty. Let us see at least for once as to how wonderful is the feeling of being alive instead of killing and getting killed."
Modi said he was seeking cooperation from neighbouring countries in the fight against poverty so that the countries of the SAARC grouping can emerge as a power in the world.
"It is imperative that we work together with a dream to win the fight against poverty, shoulder to shoulder," he said.
Modi also referred to his visits to Bhutan and Nepal and said that leaders from the SAARC countries attended his oath-taking ceremony.
"This marked a good beginning. This will definitely yield good results," he said.
Modi, however, did not mention Pakistan in his address, a neighbour which usually finds mention in the prime minister's address to the nation on the Independence Day.
During his visit to Jammu and Kashmir earlier this week, Modi accused Pakistan of waging a proxy war against India, saying it has killed more soldiers than those killed in all wars since 1947.
Modi, who last year delivered the Independence Day speech from Bhuj as the chief minister of Gujarat, had slammed then prime minister Manmohan Singh, saying the Congress leader did not send a strong message to Pakistan over repeated violation of ceasefire and killing of Indian soldiers across the Line of Control in Jammu and Kashmir.