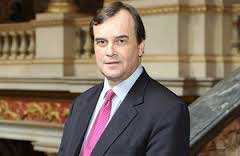 Bengaluru, June 11  On his maiden visit here, new British High Commissioner to India Dominic Asquith has said the UK wants to be 'a partner of choice' to Karnataka.
"I am delighted to be here in Bengaluru — the IT City of India and this fact is recognised worldwide. Bengaluru recently featured in the top five global cities for global locations for innovation," said Asquith.
Meeting senior government officials, Indian companies and politicians here on Thursday, the high commissioner talked about promoting bilateral engagement in the realms of smart cities, skills and cyber security.
Talking about investments, Asquith said: "Britain is the largest G20 investor in India. India — the fastest growing major economy — invests more in Britain than it does in the rest of the EU combined. We are seizing the opportunity to increase each other's prosperity."
Earlier, Asquith joined British Deputy High Commissioner Dominic McAllister to celebrate the Queen's Birthday Party (QBP) in Bengaluru.
McAllister said: "We are proud of the fact that UK was the first country to open a government office in the city."
According to him, UK is well positioned to be the 'partner of choice' for Karnataka.
UK was a partner county to the state in the recently held 'Invest Karnataka' summit, where 23 UK companies showcased their products.