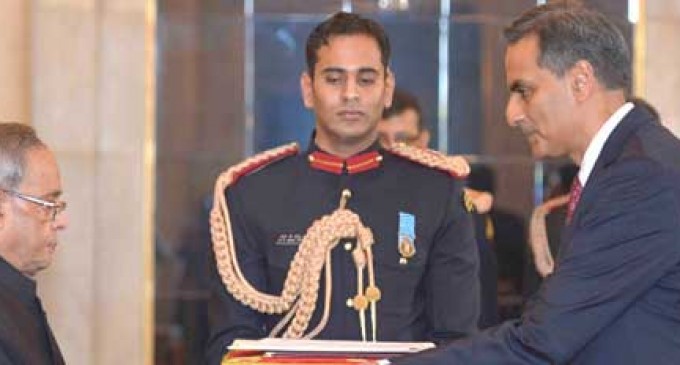 New Delhi, Jan 16 Four new envoys Friday presented their credentials to President Pranab Mukherjee and of them, two were persons of Indian-origin – the US ambassador and the Canadian high commissioner.
Richard Rahul Verma is the first American of Indian origin to occupy the post, while Nadir Patel is the first Canadian of Indian to do so. Both have impressive credentials and come with considerable diplomatic and administrative experience, an indication of the importance the India posting has become in world capitals.
At his confirmation hearing in Washington last week, Verma told the Senate Foreign Relations committee that US President Barack Obama's "historic visit to India in January" will build on "(Prime Minister Narendra) Modi's highly successful visit to the United States this past September."
"There is no question that this is a defining and exciting time in the US-India relationship," he said.
Verma, whose parents migrated from India in the 1960s, also acknowledged the contribution of immigrants from the Indian subcontinent and vowed to "strive to live up to the high standards they have set".
They "took a chance like my parents, who worked hard, who continue to pursue their dreams, and along the way have helped ensure India and the United States become the closest of friends and partners," he told the panel.
He served as assistant secretary of state for legislative affairs at the State Department in the Obama administration from 2009 to 2011.
The New Delhi post had been vacant since the previous ambassador Nancy Powell quit last May after India-US ties hit a low after a major diplomatic spat over the December 2013 arrest and strip search of Indian diplomat Devyani Khobragade in New York.
The new Canadian envoy is the son of Gujarati immigrants. Speaking about his new role, Patel said: "I look forward to working with Prime Minister (Narendra) Modi and his government to further expand ties between Canada and India.
"There are several areas where collaboration is already strong, and there is scope for even greater cooperation to enhance our mutual prosperity, security, and people-to-people ties."
Prior to his arrival in India, Patel served as Assistant Deputy Minister and Chief Financial Officer for Canada's Department of Foreign Affairs, Trade and Development.
Before that he held a series of high-level government positions, including Chief of Staff to the National Security Advisor to the Prime Minister, and Secretary to the Cabinet.
From 2009 to 2011, Patel was Canada's Consul General in Shanghai.
Patel was selected in 2012 by the "Embassy" newspaper as one of the 80 most influential Canadians shaping Canada's foreign policy, an honour he got again in 2014 from the "Power and Influence" magazine (top 100).
In January 2011, he was profiled by Canada's "Globe and Mail" newspaper as one of "45 Canadians Changing the World".
He is a graduate of the London School of Economics and Political Science and the HEC Paris School of Management.
Zimbabwe's Ambassador Maxwell Ranga and Burundi's Ambassador Regine Katabarumwe also presented their credentials at a ceremony held in Rashtrapati Bhavan.