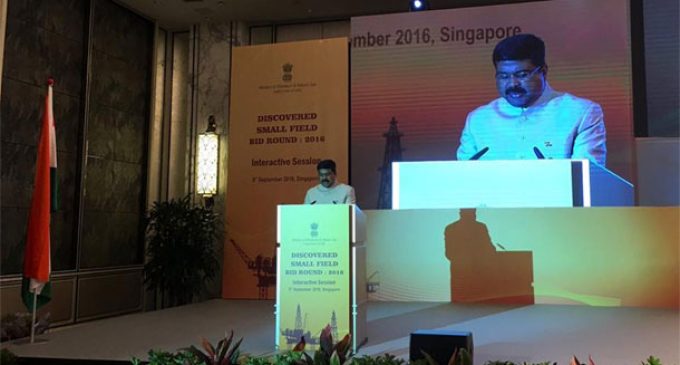 Singapore, Sep 9 (IANS) With a view to supply energy at affordable prices to Indian consumers, the government has introduced transparent policies to encourage investment in refineries and petrochemical plants, Petroleum Minister Dharmendra Pradhan said on Friday.
"Consumers are the kings in India. We want to provide affordable energy to our consumers," Pradhan said here launching a road show for the auction 67 discovered small fields in India.
He said participation by big global energy players like Saudi Aramco, Shell, BP and Rosneft is important for developing the energy sector and creating competition in the domestic market.
"Rosneft is eyeing Indian market," Pradhan said, adding that the Russian energy major is currently in negotiations with India's Essar Group for participating in the refining sector.
"When we are talking about free and transparent policies, we have to open our market. Consciously, we have deregulated our market and we are giving gradually price and marketing freedom to the investors," he told reporters here.
"Our focus is on simplifying policies and improving the environment for ease of doing business in the country," the minister said.
"Singapore and India can jointly partner for the mutual growth," he added.
Later, addressing institutional investors here at an event organised by Indian firm ICICI Securities, Pradhan highlighted the potential of the huge Indian market and said he was happy with the interest shown by foreign investors.
"Addressed Institutional Equity Investors, organised by ICICI Securities, in Singapore," Pradhan tweeted.
"Had an interactive meeting with potential investors from Singapore; many of them have experience of working in India," he said in a separate tweet.
"Addressed Media about 'Destination India';happy to see their interest in Indian energy sphere and big market," he added in another tweet.
Pradhan arrived here on Friday on the first leg of his six-day, two-nation visit to lead the country's road shows to attract foreign investors in exploiting its discovered small oil and gas fields.
"Addressed road show on small discovered blocks in Singapore. About 200 delegates and potential investors participated in it," Pradhan tweeted, on what was his first engagement. He will go to Britain later.
"Singapore is a global hub for trading of petroleum, petrochemical products and oil service equipment. There can be good synergy between the two countries. It is also a major financial centre in Asia from where FDI and foreign equity investors can invest in Indian oil and gas sector."
India's Petroleum Ministry along with the Directorate General of Hydrocarbon (DGH) is organising the interactive meet-cum-roadshow here on September 9-10.
"During the meetings, Pradhan is expected to highlight the paradigm shift in the policy regime for the exploration and production sector in India and the improved investment environment for exploration and production companies under the new Hydrocarbon Exploration Licensing Policy (HELP) which emphasises on improving the ease of doing business and operational autonomy to attract investment," DGH said in a statement earlier.
DGH said that with significant reforms introduced to reduce regulatory risk, the industry will find the revised guidelines and processes attractive for the current bid round.
Road shows were earlier held in July in the US and Canada, for the auction of India's 67 hydrocarbon discovered small fields (DSF).
Bidding opened on July 15 and will be open till October 31.
The previous exploration licensing round ended in 2012.
The auction will be under the HELP round approved in March, based on a revenue-sharing model, as opposed to cost-and-output-based norms earlier.
The new model will replace the controversial production sharing contracts — by which oil and gas blocks are awarded to firms which show they will do maximum work on a block — that has governed the bidding under the earlier nine NELP rounds.
Under the Discovered Small Field Policy, the government is offering for bids 67 discovered small fields in 46 contract areas spread over nine sedimentary basins on land and in shallow and deep water areas.
The offered fields hold 625 million barrels of oil and gas reserves.
Of the 46 small fields, 26 are on land, 18 offshore in shallow water and two in deep water.
Eventual operators will be issued a single licence for exploration of conventional and non-conventional hydrocarbons and will have the freedom to sell oil and gas at "arms length" market prices. There would be no cess on crude oil.
The production sharing contracts regime, which allows operators to recover all investments made from sale of oil and gas before profits are shared with the government, was criticised by India's official auditor, who said it encouraged companies to keep inflating costs — "gold plating" — so as to postpone giving a higher share of profits.
The change in model is designed to help keep the government share in cases of windfall from both a steep rise in prices as well as a quantum jump in production.