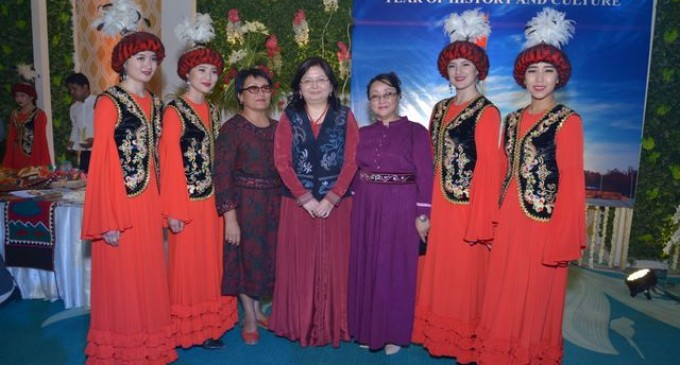 New Delhi, May 28 During the Soviet time Raj Kapoor's Movie Awara created waves, but even after that craze for Indian Movies and Culture has not faded away. To make this moment even more special Embassy of Kyrgyz Republic in India with Air Manas organised a event to further strengthened the relationship between two countries.
Speaking exclusively to Diplomacyindia.com the Ambassador of Kyrgyz Republic to India, SAMARGIUL ADAMKULOVA said "tourism and trade between India & Kyrgyz Republic have unlimited possibilities on which we want to move forward and we welcome tourists from India & there has been ten fold increase in tourism to Kyrgyz Republic."
The event comprised of artist specially came from the Capital Bishek and from the Indian side troup performed dances on Indian bollywood songs. There are many cultural highlight in this colorful program Kyrgyzstan showed the traditional dance and music, led by Kyrgyz Singer Ms. Guljan and Mr. Kubat Tukeskov and dance troup Shattyk.
The Kyrygz delegation also comprised of media persons and organising committee of World Nomad Games to be held in September 2016 The Games are scheduled to be held from September 3-8, 2016, again on the shores of Issyk-Kul. The committee came to invite India to participate in the second edition of games. The first edition was held in year 2014.
The mission of the World Nomads Games is the preservation and renaissance of the culture, identity and lifestyles of peoples all around the world in this era of globalization, the revival of the general historical cultural heritage of the nomadic civilization, strengthening friendship between peoples, and countering potential risks of to their identity. The main idea of the WNG is the implementation of ethnosport, ethnocultural and scientific programs.
According to the United Nations World Travel Organization, Kyrgyzstan ranks the world's top 10 tourist destinations most likely to boom over the coming decade.
The highlight of the evening was a scintillating performance by the Indian Ambassador to Kyrgyzstan Mr. Jayant Khobragade.  He sang a popular Hindi song "Main Shayar To Nahin" from the movie bobby.
Aibek Babukulov, Deputy Secretary General, World Ethnosport Confederation said "The Games will give a powerful boost to rehabilitating original national sport disciplines and revive the spiritual consciousness and historical memory of nomadic peoples around the world. The event is dedicated to showing the history of nomadic nations, their traditions, lifestyles and culture."