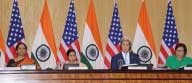 New Delhi, Aug 31  India and the US on Tuesday agreed to add partnership in the travel and tourism sector to the existing work streams under the bilateral Strategic and Commercial Dialogue, Indian Commerce Minister Nirmala Sitharaman announced here.
"We agreed to make a new addition to existing work streams under the Strategic and Commercial Dialogue on partnership in the travel and tourism sector," Sitharaman said briefing the media at the conclusion of the dialogue here.
"Both sides recognize the huge potential for engagement in advancing bilateral trade in travel and tourism services and it was agreed to observe 2017 as the Travel and Tourism Partnership Year," she said.
Sitharaman in her opening remarks earlier had noted the significant progress made under the four work streams of standards, ease of doing business, innovation and entrepreneurship and infrastructure and smart cities.
Declaring that both sides had agreed to take a focused intervention in various areas, Sitharaman said India had launched a Government e-market place (GeM) and has agreed to look at best practices exchange with GSA, Advantage which deals with government procurement in the US.
"We will work on best practices on procurement models and will look at collaboration between the Department of Expenditure (India) and USTDA (US Trade and Development Agency)," she said.
"We have agreed on a programme called 'Silicon Valley comes to India' which will have experts from USA coming to India to interact with start ups and provide the required momentum to Indian entrepreneurial eco-system," she added.
She also announced that next year's Global Entrepreneurship Summit will be held in India and it will be co-hosted by the US.
Addressing the media, US Commerce Secretary Penny Pritzker praised the CEOs Forum for "having injected the perspectives of the private sector into our dialogue."
"Relations between the US and India have blossomed and the Strategic and Commercial Dialogue has contributed to this. We now trade more with each other, invest more in each other, do more business with each other," she said.
"Over next year, government will implement the recommendations of the CEOs Forum in financing infrastructure, smart cities, small businesses, among others. We will also strengthen the partnership between Indian states and US businesses" she added.
Announcing that the bilateral dialogue on travel and tourism would be launched here on Wednesday, Pritzker said that while 1.5 million Indians had visited the US last year, 1.2 million Americans had also come to India during 2015.