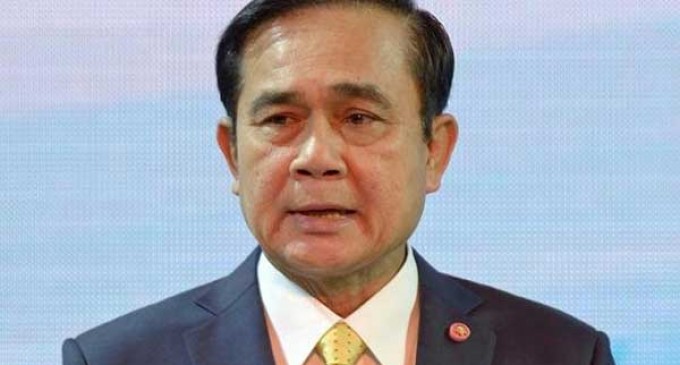 New Delhi, June 16  Thailand Prime Minister Prayut Chan-o-cha will begin his three-day state visit to India from June 16, during which bilateral engagements will focus on defence, security, education, tourism, business ties and science and technology.
Visiting India on Prime Minister Narendra Modi's invitation, Chan-o-cha will be accompanied by his wife, his deputy prime minister and five other cabinet ministers, a 46-member business delegation and senior officials.
"He will be given a ceremonial welcome at the Rashtrapati Bhavan here on June 17 morning and thereafter will visit the Rajghat to pay his respects to the Father of the Nation," Ministry of External Affairs Secretary (East) Preeti Saran said.
The Thailand premier will meet External Affairs Minister Sushma Swaraj, followed by a bilateral meeting with Modi.
Modi will host a luncheon here in honour of the visiting dignitary and his delegation.
The Thailand Prime Minister will also call on Vice-President Mohammad Hamid Ansari.
On June 17 evening, industry bodies Confederation of Indian Industry, the Federation of Indian Chambers of Commerce and Industry and the Associated Chambers of Commerce of India will hold a business event, where the first India-Thailand business forum will be established.
The event will provide businessmen from both sides an opportunity to hold discussions on sectors like steel, infrastructure, machine tools, banking and food processing.
"After his official engagements on June 17, he will leave for Bodh Gaya in Bihar and leave for Thailand from there on June 18. It will be a pilgrimage for him and members of his delegation," she said.
"We would like to attract more Thai investments in India in general and in 'Make in India' and other flagship programmes of the government of India.
"Apart from high-level political exchange, we expect discussions to take place in defence, security, education, science and technology and people-to-people contacts, which is an important element. Tourism has been important element in building people-to-people contacts," Saran added.
About 10 lakh Indian tourists visit Thailand every year while about one lakh tourists from Thailand come to India.
"There is a huge potential when it comes to the Buddhist pilgrimage. There is a lot of interest in Thailand to visit all Buddhist sites in India. Certainly, we can do better in attracting them. we have liberalised electronic visas for Thai nationals but no direct flight to Bodh Gaya could certainly be an impediment," she said.
The MEA Secretary said a CII-led delegation will visit Thailand later this year to showcase the immense tourism potential between the two countries.