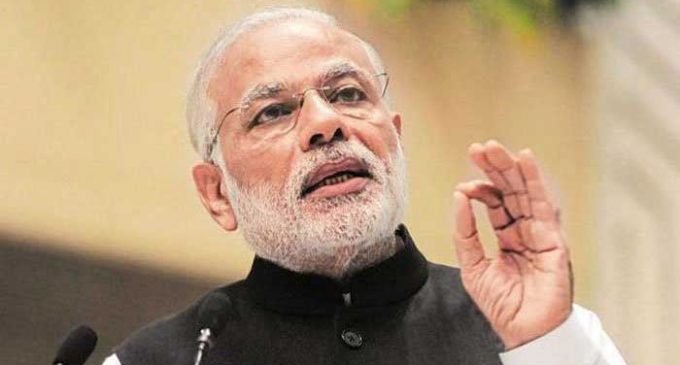 Dubai, Feb 12 (IANS) In a powerful message before a global audience, Prime Minister Narendra Modi on Sunday cautioned the world against mankind fashioning tools of destruction through technology and misuse of cyberspace for radicalisation.
Addressing the sixth edition of the World Government Summit hosted by the United Arab Emirates government as the "Guest of Honour" this year, he also gave a clarion call to the world to unite on issues like long-distance online education through which poor children can be provided education.
In his keynote address on the last leg of his two-day visit to the United Arab Emirates, heard in rapt attention by Dubai's Vice President and Prime Minister Sheikh Mohammed bin Rashid Al Maktoum and International Monetary Fund Managing Director Christine Lagarde packed to its capacity of over 1,000 in the auditorium, he also talked about humanity coexisting with nature and not in conflict with it.
Modi said poverty and malnutrition have not been wiped out from the world but still a large chunk of resources were being diverted towards augmenting missiles and other weapon technologies.
"Despite all the progress, poverty and malnutrition have not gone away from the world. On the other hand, a large sum of money is being spent on increasing the speed of missiles and (destructive) capacity of bombs. We have to be alert that we make technology an instrument of progress, not of destruction," he said.
He said governments should be alert to the challenges from changes in technology so that the use of technology remains constructive. "Technology is a gift whose user manual does not mention ethical values. The misuse of cyberspace for radicalisation is an example of abuse of technology by some people," Modi said.
The Prime Minister said that the cost of mistake of making technology an instrument of struggle with the nature is very heavy. "For the future of humanity, we do not need struggle with the nature but coexistence. There are six important steps, six 'R's on this path: Reduce, reuse, recycle, recover, redesign, and remanufacture. The destinations these will take us will be "rejoice" or pleasure," he said to the applause from the audience.
Noting that people are living in "interconnected, interlinked and interdependent" world, he said "our problems are indivisible and so are there solutions to a large extent."
"This is certain that the problems that the world will face in the coming decades, their solution will have to be found jointly and technology will play a big role in this," he said.
Calling the 21st century as the century of Asia, Modi said that it took thousands of centuries to make progress from the stone age to industrial revolution but the communications revolution took 200 years whereas the distance to digital revolution has been covered in a few years.
"Technology is changing at the speed of thought and necessity is no more the mother of invention. Inventions are giving birth to needs," he said.
The Prime Minister said technology has become a big instrument of "disruptive change" and has empowered the common man.
"Technology and its spread have empowered the common man and this empowerment has got strength from `minimum government, maximum governance. The 'e' of e-governance is the first alphabet of effective, efficient, easy, empower and equitable," he said.
He said technological achievements such as stem cells and regeneration techniques were not only showing the way for treatment of difficult diseases but in treatment of cases of damage to body limbs.
"Farmers can save their crop and increase its yield with advance weather information. Lives of millions can be saved through disaster management," he said.
Modi said he monitors the progress of infrastructure and other development works in the country every month through video conferencing and concerned states and central ministries are linked. "We call the programme 'Pragati' or progress," he said.
The Prime Minister said his government has created an innovation ecosystem in India via the Start-up India programme and India has become a start-up nation.
He said India's unique identity programme (Aadhaar) is the largest in the world and has stopped leaks of $8 billion.
Recalling the saying by Kautilya in Arthshastra, Modi said that rulers should ensure that improvement in technology is in the interest of people.