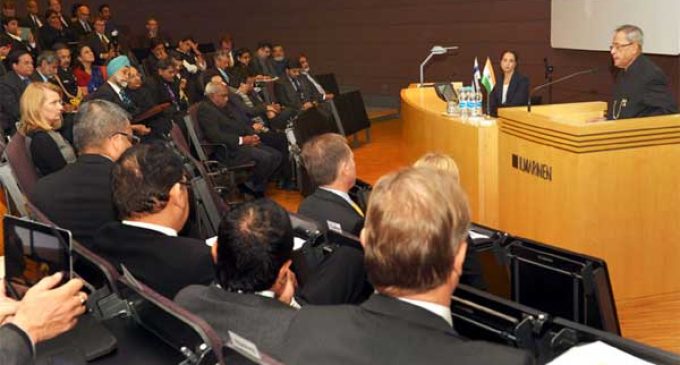 Helsinki, Oct 17  Visiting Indian President Pranab Mukherjee has invited Finland to take advantage of the "Make in India" campaign which seeks to position India as a global manufacturing hub through a series of policy interventions.
Addressing the Finnish Parliament here, Mukherjee said the new government in India was focused on "growth and creation of employment opportunities" and measures were being taken to encourage investments, revive the manufacturing sector, promote skills development, develop smart cities, address social issues and engage closely with partners in these areas.
"Our bilateral cooperation in the field of science and technology, particularly bio-technology, has been exceedingly successful. Going forward, Finland could take advantage of the 'Make in India' campaign which seeks to position India as a global manufacturing hub through a series of positive policy interventions," said the President.
Mukherjee said despite global economic downturns, there has been substantial growth in economic and commercial relations between the two countries, particularly in sectors such as oil and gas, shipping and maritime industries, renewable energy and IT services.
"Our two-way trade has crossed the one billion Euro mark. This, however, is not a reflection of the true potential for bilateral trade and commerce that exists between our two economies. I am confident that in the coming years there shall be far greater engagement between us in all areas – economic, geo-political, social and cultural," he said.
Acknowledging Finland's technology in areas such as communications and information technology, energy, shipbuilding, manufacturing, biotechnology, environment, healthcare and infrastructure services "amongst the best in the world", Mukherjee said India would like to take advantage of the country's expertise in these areas.
Mukherjee expressed his delight at the signing of several memoranda of understanding and agreements for cooperation between premier educational institutions from India and the Finnish universities as India's 65 percent of the population was below the age of 35 years and "upgrading their skills" was a high priority for the government.
"India very much looks forward to intensifying the exchanges between our peoples. India has included Finland among the countries for whose citizens tourist visas can be issued on arrival. Finn Air's direct daily flights to Delhi and Mumbai will facilitate our tourism and business links," said Mukherjee.
He said India appreciated Finland's endorsement of "India's candidature for a permanent seat in an expanded United Nations Security Council" and asserted India's commitment to deploy its significant polar research capabilities and scientific understanding for "strengthening the work of the Arctic Council".
The Arctic Council is becoming strategically very important as major nations jostle for a toehold there because of its latent reservoirs of oil and gas and because the Arctic Ocean could open in the foreseeable future to an alternate international navigational route because of the melting of the polar icecaps due to global warming.