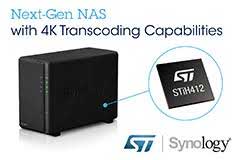 New Delhi, Feb 2 (IANS) Taiwanese company Synology on Friday announced the roll out of its next-generation Network Attached Storage (NAS) solutions in the Indian market.
An NAS storage device allows storage and retrieval of data from a centralised location for authorised network users and heterogeneous clients.
The four product lines of NAS that are designed to meet different requirements and needs from personal users, small offices, SMBs and enterprises – XS/XS+ series, Plus series, Value series and J series – are now available in India.
"India is aggressively marking its presence as a growth engine in the global economy, owing to an unparalleled growth in the SMB segment," Mike Chen, Marketing Director, Synology, told reporters here.
"We at Synology are committed to aiding this growth in the country with our industry-leading NAS solutions which help organisations gain more agility and streamline their work processes," Chen added.
Synology is the global leader in NAS, IP surveillance and network equipment solutions.
The company will also unveil the latest DiskStation Manager 6.2 (DSM6.2) OS update along with new applications and services in the country.
Synology has announced strategic partnerships with both online as well as offline channels to make its solutions available in the country, Chen said.
Synology's offline distributors include Supertron and EBM while Amazon will serve as the company's online retailer.
The company has registered a 30 per cent CAGR growth in India since 2015, with SMBs contributing a major chunk.