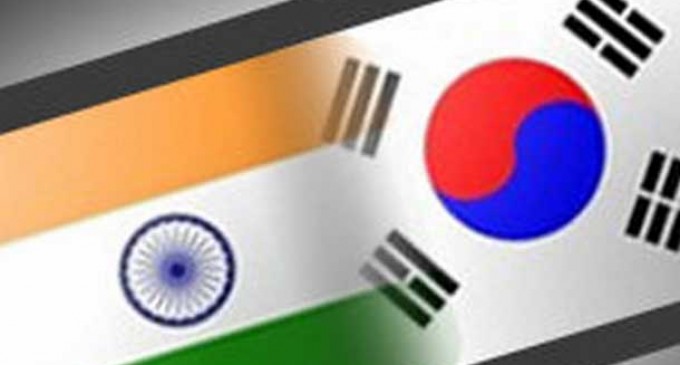 By Pradeep Kashyap, Political Editor
New Delhi, Dec 26 External Affairs Minister Sushma Swaraj will visit South Korea this week-end to provide further impetus to already strong "strategic' and "economic" relationship between the two countries and promote "Make in India" initiative" of Prime Minister Narendra Modi.
The Foreign Minister will meet its South Korean counterpart on December 29 and attend the meeting of the Joint Commission for bilateral cooperation set up in 1996 between the two countries, MEA spokesman Syed Akbaruddin told newspersons.
South Korea is a very important strategic partner, particularly in view of  China increasing presence in the region.  To further their strategic partnership  India and South Korea had recently begun  a regular dialogue between their national security structures and their agreement to exchange classified military information. The two sides set up a military wing in each other's embassies in October 2012.
The spokesman admitted that there was a decline in bilateral trade between two countries in the past few years and talks would be centred to meet trade target of 40 million dollars in 2015, set by both the countries, from the present merely 17 million dollars.  There is a Comprehensive Economic |Partnership Agreement between the two countries.
India and South Korea are likely to further explore cooperation in outer space, IT, science and technology, infrastructure, education, culture and defence.
Asked if the issue of India recently canceling a billion dollar deal with South Korea for supply of eight Mine Countermeasure Vessels (MCMV) to Indian Navy would  be discussed at the meeting, the spokesman said India and South Korea were strategic partners and all efforts would be made to further consolidate it.
Asked if Prime Minister Narendra Modi will be visiting that country, he said South Korea was seeking an early visit of  the  Prime Minister but he would not say anything until it was finalized.  South Korean President Park Geun-Hye had come to India  between January 15 and 18, 2014.
A joint statement between the two countries was released for further expanding the political, security, defence, economic, scientific, technological, IT, cultural and people to people relations. is  during which a joint statement ptw in January this year.
The annual trade between the two countries is over $16 billion, but South Korea has substantial trade surplus.
Sushma Swaraj is expected to seek South Korean investment as part of 'Make in India' initiative of the Indian government to bridge this gap.
Akbaruddin said South Korean companies have invested $3 billion in India and employ about 40,000 people. while Indian companies have invested about $2 billion in that country.
Akbaruddin said India and South Korea were keen to take their relationship forward.
Replying to a question about defence cooperation, Akbaruddin said India welcomes South Korean participation in defence joint ventures and its participation in defence acquisition programme.
During her two-day visit from Dec 28, the minister will invite South Korean industrialists to invest in India to bridge the country's trade deficit.
External affairs ministry spokesperson Syed Akbaruddin said: "External affairs minister's visit will intensify our exchanges with an important country, which we consider crucial in our East Asian Policy."
On a query, Akbaruddin said the two countries have signed a civil nuclear cooperation agreement and decided to work together on next generation reactor.