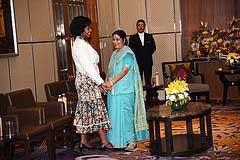 Gandhinagar, Jan 7 External Affairs Minister Sushma Swaraj Wednesday met with her South African counterpart Maite Nkoana-Mashabane, who is attending the 13th Pravasi Bharatiya Divas (PBD) being held here
The event marks the centenary of the return to India of Mahatma Gandhi from South Africa.
Sushma Swaraj and Nkoana-Mashabane met on the sidelines of the three-day PBD that kicked off here Wednesday with the Youth PBD.
She also met with Mauritius Vice Prime Minister Showkutally Soodhun.
PBD is the world's largest annual gathering of people of Indian origin aimed at enhancing networking and reinforcing commercial linkages.
There are 25 million people of Indian origin residing outside India.
The chief guest at the 13th PBD would be Guyana President Donald Ramotar.
President Ramotar gifted Sushma Swaraj a coin commemorating the arrival of Indian indentured labour in Guyana, according to a tweet by external affairs ministry spokesperson Syed Akbaruddin.
Ramotar is on a six-day official visit to India Jan 7-12.
Sushma Swaraj also met with Mauritius Vice Prime Minister Showkutally Soodhun here, according to a MEA tweet.
It is the Narendra Modi government's first interaction with the new Mauritius government, led by Prime Minister Anerood Jugnauth that was sworn in December 2014.