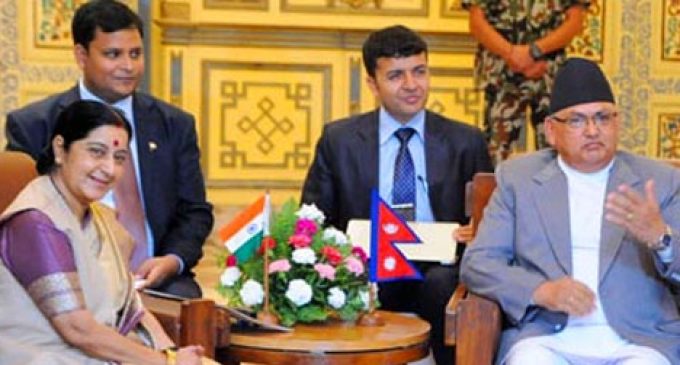 Kathmandu, July 26 The third meeting of the Nepal-India Joint Commission at the foreign ministry-level started here Saturday after a hiatus of 23 years.
Indian External Affairs Minister Sushma Swaraj, who arrived in Kathmandu Friday evening, jointly inaugurated the meeting with her Nepali counterpart, Mahendra Bahadur Pandey.
Syed Akbaruddin, spokesman of the Indian external affirs ministry, said that the two sides were working to establish an Eminent Persons Group (EPG) to look into the potential of growth in bilateral relations.
Apart from the EPG, the meeting will also discuss, among other issues, constitution of a foreign secretary-level mechanism to boost bilateral ties, security and defence cooperation, repair and maintainence of boundary pillars and installation ofthe missing ones, setting up of a boundary working group, construction of road near the international border in an area that is affected by inundation and finalisation of an memorandum of understanding (MoU) on curbing illicit trafficking of narcotic drugs and psychotropic substances.
The meeting will also focus on the line of credit from India's EXIM Bank, cooperation in agricultural development, mid-hill highway in the eastern sector, including Sikkim link near Chiyo Bhanjyang, widening of East-West Highway, construction of a bridge over Mahakali river at Mahendranagar, a suspension bridge at Dadeldhura, postal highway and feeder roads, the first and second phases of a rail rail, rolling stock for railways, a and a cricket stadium in Pokhara.
Sushma Swaraj also met Chairman of the Constituent Assembly, Subas Nembang, at Singha Dubar and Pushpa Kamal Dahal aka Prachanda, chairman of the United Communist Paty of Nepal-Maoist (UCPN-M), on the sidelines of the joint commission meeting.
In the meeting with Nembang, the two leaders discussed the preparations being made in Nepal's parliament for the address of Indian Prime Minister Narendra Modi when he visits in the first week of August.
Prachanda, on his part, underscored the need for relations between Nepal and India at the political level as, according to him, and dealing at non-political level has yielded no result.
The Indian foreign minister promised to work in strengthening Indo-Nepal ties further through a high-level political mechanism.