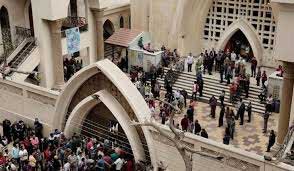 Cairo, Dec 29 (IANS) At least six people were killed on Friday in a shootout outside a church here, according to Egyptian authorities.
"The security forces thwarted an attack near the Mar Mina Church in Helwan district," the Interior Ministry said.
One attacker was killed and another escaped the scene on a motorbike, Xinhua news agency reported.
The victims included two policemen, the ministry said.
No group has claimed responsibility for the attack so far.
The attack comes ahead of New Year celebrations and the Coptic Christmas on January 7.
Egypt is a Muslim-majority country and its Christian minority makes up around 10 per cent of the population.
Most of them belong to the Coptic Orthodox Church.
In April, 45 people were killed in twin suicide bombings that took place at the St. George's Church in Tanta and the Saint Mark's Coptic Orthodox Cathedral in Alexandria.
The attack was claimed by the Islamic State terror group.