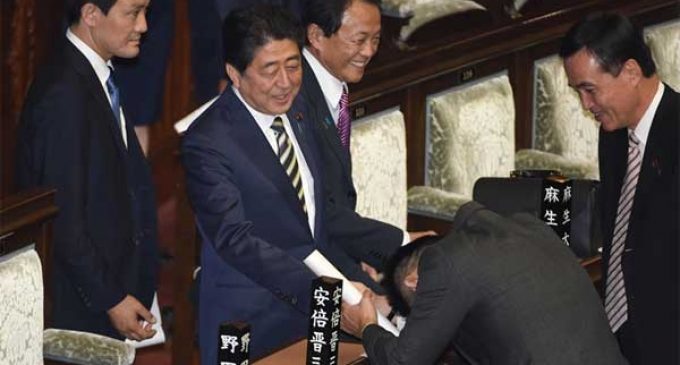 Tokyo, Nov 1 (IANS) Following snap polls, Japan's Lower House of Parliament on Wednesday re-elected Shinzo Abe of the Liberal Democratic Party (LDP) as the Prime Minister.
Abe's party won the snap elections held on October 22.
The 63-year-old leader, received 312 votes in favour, out of 465 in the House of Representatives. Abe will announce his new cabinet later in the day, Efe news reported.
Abe, as leader of the LDP, has now been re-elected for a third consecutive term after he took office in December 2012.
Abe had dissolved the Lower House and announced snap polls in September end.
He cited the need to reinforce his popular support in order to counter the threats of North Korea's repeated weapon tests and to continue with his economic reforms, popularly known as "Abenomics".
If he is re-elected as the President of the LDP in 2018 and remains in power until November 2019, Abe will become Japan's longest-serving Prime Minister