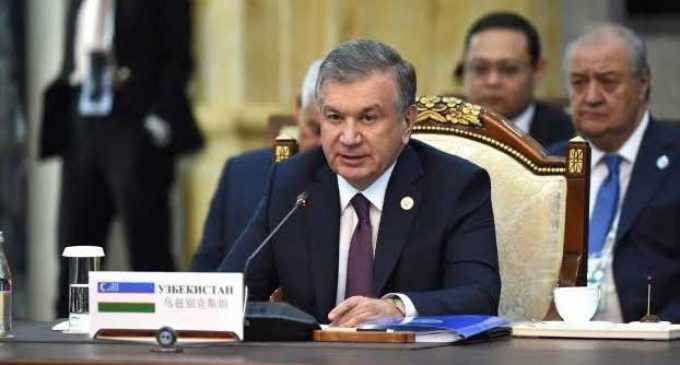 The Bishkek Summit of the Shanghai Cooperation Organization continued with an extended meeting of the heads of state. The talks were attended, along with leaders of member countries, also by heads of observer nations and delegations of international organizations.
In his speech the President of Uzbekistan drew attention to pressing issues in the region and voiced practical proposals to address them. According to Shavkat Mirziyoyev, competition in world markets has been mounting, so has the environmental and demographic disbalance. The threats of terrorism, extremism and transnational crime have proved enduring.
"Today, it is important that we adhere to concerted action to provide for security and promote an environment conducive for the sustainable development of our countries", the President of Uzbekistan insisted.
The President of Uzbekistan stressed that Central Asia's stability and openness open up immense opportunities for extensive cooperation and the realization of important regional projects. One of those projects is construction of Uzbekistan – Kyrgyzstan – China railroad that is to afford a potent impetus to trade and investments.
Expounding on regional security issues, Shavkat Mirziyoyev suggested that the stability in the region is determined by the situation in Afghanistan. Crucial is the roadmap being adopted today for the SCO – Afghanistan Contact Group as well as the vigorous engagement of that country in the regional cooperation.
The President of Uzbekistan proposed also to devise a concept for introduction of smart agriculture and agro-innovations, to approve the SCO program "Green Belt" for wide introduction of resource-saving and ecologically clean technologies.
Shavkat Mirziyoyev underscored the importance of the more energetic promotion of historical and cultural heritage of our peoples, full realization of tourism potential and proposed to annually announce one of the cities of participant nations the tourism and cultural capital of the SCO.
The President of Uzbekistan came up with proposals to develop economic ties within the SCO, counter the climate change, introduce green technologies, and strengthen cooperation in development of information technologies.