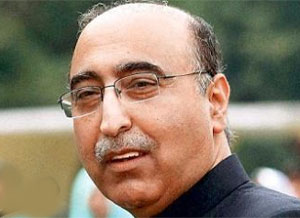 New Delhi, July 27 Pakistan Prime Minister Nawaz Sharif was committed to normalisation of relations with India on the basis of mutual interest and respect, Pakistan High Commissioner Abdul Basit has said.
Basit was speaking at the Jama Masjid which he visited at the invitation of Shahi Imam Syed Ahmed Bukhari for 'Iftar' Saturday evening, a release said here Sunday.
Addressing the congregation after the prayers, he conveyed to Indian Muslims felicitations on behalf of the people of Pakistan and wished them Eid greetings in advance.
Commenting on bilateral relations, Basit said that Sharif was committed to improving relations between the two countries on the basis of mutual respect and mutual interest.
Basit expressed the hope that with the resumption of bilateral dialogue, things would move forward in all areas as articulated by the two prime ministers in their meeting in New Delhi on May 27.
This was the first time that a high commissioner for Pakistan was invited for Iftar at the Jama Masjid and also addressed the congregation, the release said.