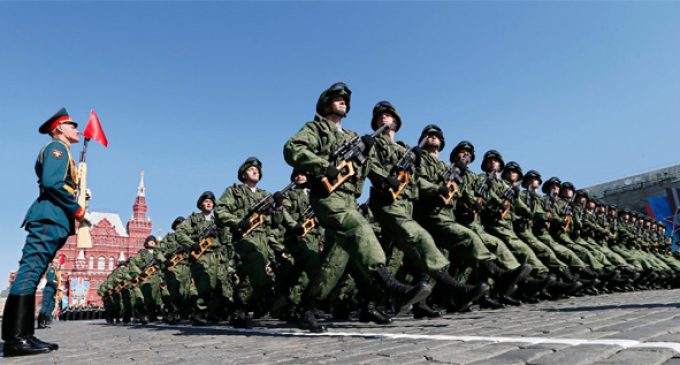 [WRG id=3238]
Moscow, May 9 Russia on Saturday put up a grand show to mark the 70th anniversary of the capitulation of Nazi Germany in 1945, at the annual Victory Day parade here.
The parade, which marks the Allied victory on the Eastern Front during the Second World War, showcased some 16,000 military servicemen marching, 194 units of military hardware and more than 140 combat aircraft at Moscow's Red Square, TASS news agency reported.
Russian President Vladimir Putin was joined by his Indian and Chinese counterparts Pranab Mukherjee and Xi Jinping, and UN Secretary General Ban Ki-moon.
"The spirit of allied relationship that was hardened during World War II should serve as an example of partnership for all countries of the world in the name of fair objectives and global peace," Putin said in his address.
He also warned against attempts to organise a unipolar world. He said recent decades have witnessed ignoring of the basic principles of international cooperation, for which "the mankind had suffered in the global wars".
"Our common task should be offering equal-security system for all countries, which is adequate to modern threats, and which is based on regional, global, bloc-free basis," the Russian president said. "This way only we shall provide peace on the planet."
An airshow was opened by the Chief Commander of the Air Force, Gen Viktor Bondarev who steered a Tupolev-160 strategic bomber known in Russia as the 'White Swan'. The helicopter display featured the world's biggest helicopter Mi-26.
The highlight of the airshow was the figure '70' made up of MIG-29 and Sukhoi-25 fighters that floated in the air over Red Square.
The airshow was preceded by a march-past of a column of army vehicles, artillery pieces, tanks and missile complexes.
Military units from India, Azerbaijan, Armenia, Belarus, Kazakhstan, Kyrgyzstan, Tajikistan, Mongolia, Serbia and China participated in the parade.
A historical part of the presentation was performed by servicemen of the famous Kantemirovsky Tank Division, with the legendary wartime tanks T-34-85 leading the party. The T-34 became a legend of ground battles on the Eastern Front of WW II.
Military parades on a smaller scale were also held in other cities, including Sevastopol in Crimea, and also in rebel-held Donetsk and Luhansk in eastern Ukraine.
A reception was held at the St George's hall of the Grand Kremlin Palace after the military parade on Red Square and the laying of wreaths and flowers at the Unknown Soldier's tomb in the Alexander Gardens by the northwestern wall of the Kremlin.
According to official data, about 27 million Soviet citizens — both civilians and servicemen — died in WW II between 1941 and 1945.