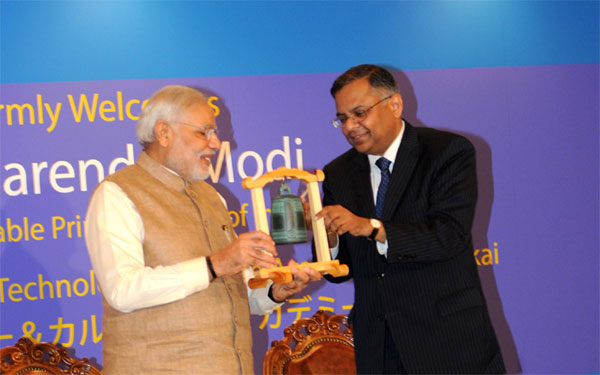 Tokyo, Sep 2 Prime Minister Narendra Modi Tuesday kicked-off a new initiative on training for Japanese youth started by Tata Consultancy Services (TCS) at its various facilities in India, asking them to return to Japan as India's ambassadors.
"You are going as employees of TCS. But I want you to come back to Japan as ambassadors of India," Modi told the first batch of 48 trainees who will proceed to India to undergo training for six-eight weeks at various TCS offices.
"The 21st century is the century of knowledge and technology. I am sure all of you will gain knowledge by travelling in India," he said, also asking the trainees to use their time in India not only inside classrooms and offices, but also to see the country.
The academy will enhance the technology and cultural knowledge and understanding between Indian and Japanese IT professionals. Apart from increasing their exposure to new technologies, the trainees will learn about quality, processes and business skills.
Modi also asked them to savour Indian cuisine. "I can tell you that even if you stay in India for six months and want to enjoy a new dish daily, you will not have to repeat a single dish," he added.
In April this year, TCS and Japan's Mitsubishi Corp announced they were merging their IT operations in Japan to create a new global-scale player in the Japanese IT industry. TCS has a 51-percent stake in the new venture called Tata Consultancy Services Japan.
The company's technology centre, which has capacity to seat about 4,000 employees, will provide Japanese corporations a mix of global talent and capabilities to help them transform and globalise their operations to drive their growth in future.