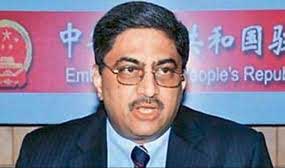 Beijing, Jan 29 (IANS) China on Monday said it is ready to talk to India over its concerns on the China-Pakistan Economic Corridor (CPEC), which passes through Pakistan-administered Kashmir.
Beijing's reaction came in response to India's Ambassador to China Gautam Bambawale telling Global Times that CPEC is a major problem and it must not be pushed under the carpet.
China again maintained that the multi-billion dollar project is "merely an economic cooperation" and not aimed at India.
"Regarding the CPEC, China has reiterated its position. As to the differences between China and India, China stands ready to communicate and talk with India to seek proper solution so that these differences don't affect our general national interests. This best serves the interests of the two countries," Chinese Foreign Ministry spokesperson Hua Chunying said here.
The over $50 billion project, a key artery of Beijing's mega Belt and Road initiative, has caused much friction between India and China over the past few years.
The CPEC links China's Kashgar in Xinjiang province with Pakistan's Gwadar port in Balochistan through a network of roads, railways and highways.
India strongly objects to the route of the corridor, which goes through Pakistan-administered Kashmir claimed by India.
Asked how China will address India's concerns over territorial sovereignty, Hua said: "As to any differences arising between the two countries, it calls for sincerity and mutual respect for these parties to seek proper solution and management of differences."
"We should not just ask one party alone to solve this problem, and as I said we are willing to work with the Indian side through dialogue and communication for a better solution," she added.
"CPEC is merely an economic cooperation project, it is not targeted at any third party. We hope the Indian side can put this in perspective.""