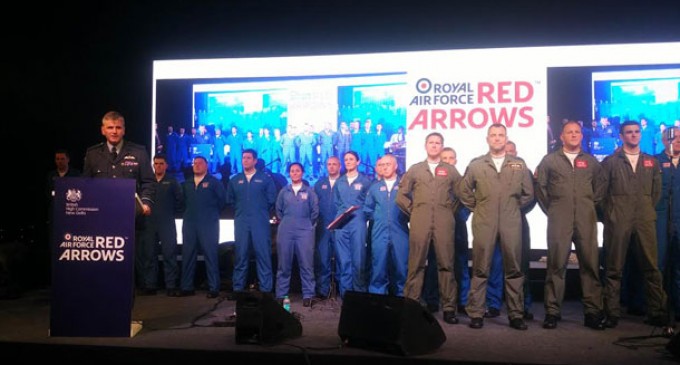 New Delhi, Oct 4 (IANS) The Royal Air Force's world-renowned acrobatic team, Red Arrows, will be performing at the (Indian) Air Force Day on October 8, the British High Commission said.
"I'm delighted that the Red Arrows are visiting India. Those who followed Prime Minister (Narendra) Modi's visit to London last year will remember the flypast they put on in his honour, decorating the skies of London in the colours of the Indian flag," said Defence Advisor, Brig. Mark Goldsack, in a statement from the high commission.
"The visit celebrates the strong historical bond and a close relationship between the RAF and the Indian Air Force. The Red Arrows fly the Hawk aircraft, which is both a British and now Indian success story," he said.
India has purchased 123 Hawks to date, 99 of which have been built under licence by Hindustan Aeronautics Ltd, using parts supplied by BAE Systems and engines supplied by Rolls Royce.
More than 600 IAF pilots have been trained so far on the Hawk 132 AJT and the first batch of the three Indian women fighter pilots is being trained at present on them.
"The Red Arrows will help showcase teamwork, engineering excellence and the best of British in advanced manufacturing and aerospace shortly before the first ever India-UK TECH Summit which takes place in New Delhi from 7-9 November. The TECH Summit will highlight excellence and collaboration between India and the UK in innovation and technology," said the statement.
It said the Red Arrows are honoured to be invited to perform an aerial salute to the Indian Air Force on Air Force Day in front of IAF chief, Air Chief Marshal Arup Raha.
"Indeed, we feel privileged to have been invited to perform a display in honour of the Indian Air Force on Air Force Day," it quoted team leader, Squadron Leader David Montenegro, as saying.
Apart from flying, while they are in Delhi, the Red Arrows team will be welcomed at an evening reception hosted by the British High Commissioner on October 5. The crews will also visit schools and universities to talk about hi-tech education and training opportunities in Britain.
The visit to India is part of a major 60-day tour of the Asia-Pacific and Middle East regions by the Red Arrows.
Upon returning from their Far East part of the tour in November, the Red Arrows are planning to deliver further aerial displays in Hyderabad and Bengaluru.
In their biggest overseas tour in a decade, the Red Arrows will undertake more than 20 displays and a series of flypasts.