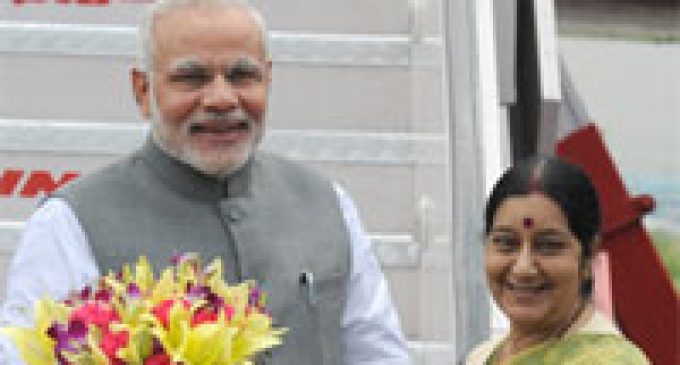 New Delhi, Sep 3 Prime Minister Narendra Modi Wednesday returned here after a five-day successful visit to Japan that saw both sides elevate bilateral ties to a new level and also enhanced economic and defence cooperation.
External Affairs Minister Sushma Swaraj received the prime minister at the airport.
This was Modi's first bilateral visit outside South Asia after becoming prime minister in May.
After his arrival, Modi tweeted: "EAM Sushma Swaraj-ji told me that the visit has generated lot of positivity & optimism in India about our ties with Japan. Glad to know."
During his visit, Japan promised to give $35 billion to India over the next five years for developmental projects. The two sides inked five agreements, including those covering defence exchanges, cooperation in clean energy, roads and highways and healthcare.
Japan also lifted the ban on six Indian entities that was imposed following the 1998 nuclear tests.
Modi, who shared warm rapport with his Japanese counterpart Shinzo Abe, also invited Japanese investments and highlighted India as a good destination for business.
He assured Japanese businessmen that India was awaiting investments with a 'red carpet' and not 'red tape'.
"This visit has been very successful," Modi said during a reception hosted by the Indian community in Tokyo.