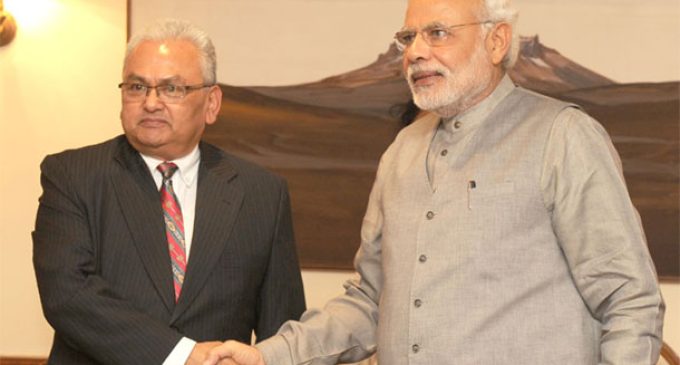 New Delhi/Kathmandu, Oct 20 Foreign Minister of Nepal Mahendra Bahadur Pandey Monday extended an invitation to Indian Prime Minister Narendra Modi to participate in the forthcoming 18th Saarc Summit to be held in Kathmandu Nov 26-27.
At a meeting at the Indian prime minister's 7 Race Course Road residence in New Delhi Monday afternoon, Pandey handed over the invitation to Modi on behalf of Nepal Prime Minister Sushil Koirala. Modi and Pandey also discussed a wide range of bilateral issues, particularly developments after the visit of Modi in the first week of August to Nepal and preparations related to Saarc, a senior Nepal government official told IANS.
Earlier in the day, Pandey held talks with India's Minister for External Affairs Sushma Swaraj at the latter's office. The meeting primarily focused on enhancing regional cooperation in South Asia as well as on the mutual interests and cooperation between the two countries. Swaraj also enquired about the status of the constitution drafting process in Nepal and the keenness of political parties for it, said the official.
The two leaders also discussed issues related to Saarc, common international issues that Saarc member states can raise in international fora and bilateral issues. Sushma Swaraj reiterated that India wanted to see a "prosperous, stable, democratic and peaceful Nepal."
According to MEA spokesperson Syed Akbaruddin, the Indian side informed Nepal of the new modalities to implement the Terai Road Project Phase I. The flagship Indian project in Nepal's southern plains is beset by various obstacles and could not make progress at the desired speed.
"India- Nepal ministers agree to swiftly implement decisions of Joint Commission held in July 2014," he tweeted.
Sushma Swaraj told her Nepalese counterpart that she was heartened at the progress made in India-Nepal projects since Modi's visit. She also expressed her happiness over the recent Power Trade Agreement for Upper Karnali hydro-electricity project and Power Trade Agreement with Nepal to be signed tomorrow( Tuesday, Akbaruddin stated.
"India awaits concurrence of Nepal on draft agreement of line of credit of $1 billion announced during Modi's visit in August," he said.
On Tuesday, Pandey will leave for Afghanistan to hand over an invitation to newly appointed Afghan President Ashraf Ghani Ahmadzi.