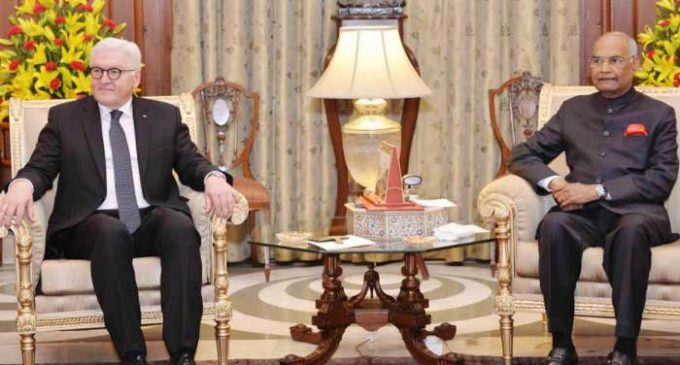 The President of India, Shri Ram Nath Kovind, received His Excellency Dr Frank-Walter Steinmeier, the President of the Federal Republic of Germany, at Rashtrapati Bhavan today (March 24, 2018). He also hosted a banquet in his honour.
Welcoming the German President to India, the President said that India and Germany may be separated by geographical distance, but we are united by our shared values of democracy, respect for individual freedom and the rule of law.
The President said that we have crafted a modern partnership on this strong foundation.  Our economic partnership is doing well.  There is growing cooperation between India and Germany in trade and investment. Germany is India's sixth largest trading partner and seventh largest foreign investor.  However, our bilateral trade, at about US $ 18.7 billion, is far below potential.  We need to work on this.
Subsequently, in his banquet speech, President Kovind said that we see Germany as a natural partner in our quest for sustainable growth. Ours is a partnership for the future, be it defining the contours of cyberspace or climate change action, digital transformation or harnessing renewable energy. German companies are helping take our Make in India, Skill India, Clean India and Start-up India programmes forward.  We want many more to join us in our journey.
The President said that in these times, no corner of the world is immune to terrorism. It poses a constant threat to our societies and to our development and progress. We must join hands, ever more strongly, to defeat these inhuman forces.
The President said that we deeply value Germany's role in promoting global peace and stability. We fully support its efforts to strengthen Europe and a multi-polar world. The President said that there is strong willingness in both India and Germany to deepen and elevate their relations. He expressed confidence that this visit would open a new chapter in India-Germany bilateral relations.