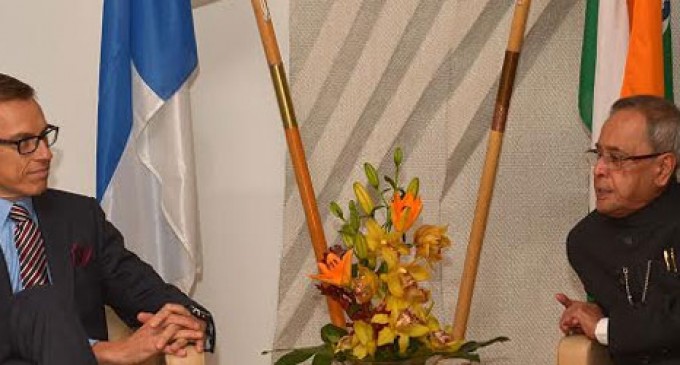 Helsinki, Oct 15 President Pranab Mukherjee, the first Indian head of state to visit this Nordic country in 26 years, was Wednesday presented the Medal of Honour of Helsinki and said India looks forward to cooperation with Finland in the skills development sector – a high priority for the
.
In a speech after receiving the medal at Helsinki City Hall, the president said that with the honour, Finland was honouring the people of India.
He said a number of agreements and MoUs were being signed during his two-day visit. Both sides are to link premier academic and scientific institutions in India and Finland "in noteworthy collaborations and promote joint work in many areas of shared interest".
"There is a lot that we can learn from the experiences, best practices and successful innovations of Finland; our scientists and professionals, too, have much to bring to the table," said the president.
He said his discussions with President Sauli Niinisto and other meetings with the leadership of Finland "have reinforced my confidence that the traditionally warm ties of friendship and co-operation between India and Finland will only intensify and strengthen in the days and years to come".
Underlining the close connection between the two nations, he said: "I would like to underline the value that India attaches to her friendship with Finland. Although our peoples are separated by oceans and continents, they have successfully forged links through their shared values.
"We are both open societies, we have a shared commitment to democracy, individual freedoms, the Rule of Law and upholding of human rights. We firmly believe in the principle of harmonious co-existence of peoples in peace and with mutual respect."
"Our common interests in the field of science and technology, our complementarities in the fields of information technology and engineering, our fruitful collaboration in biotechnology and the joint projects that we have taken up in polar research, oil exploration and clean and renewable energy have brought our peoples closer together in a mutually beneficial way," he added.
Scientists of both countries have successfully partnered to achieve very interesting outcomes in the field of bio-diagnostics or third generation bio-fuels or simple innovations that can be commercially developed by small and medium enterprises in India and Finland alike.
"We, in India, welcome entrepreneurs from Finland who have set up base and are working in India. We value their contribution in developing environment-friendly technologies. This in fact is one of the priorities of our Government and the success of Indo-Finnish collaborations in this field is certainly very promising."