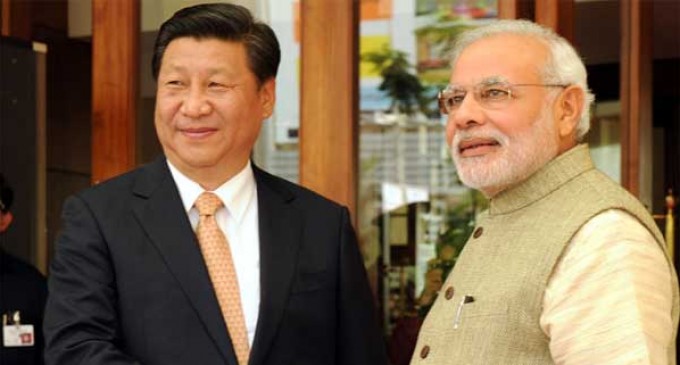 Mumbai, Oct 8 Following up on Chinese President Xi Jingping's visit to India last month, a series of business events have been lined up for boosting long-term trade ties between India and China, an official said here Wednesday.
A 600-strong trade delegation representing 400 Chinese companies and officials will visit India soon and tour various manufacturing centres in Mumbai, Pune, Ahmedabad as also Madhya Pradesh among other places to play a role in Prime Minister Narendra Modi's vision of 'Make In India' initiative.
Meorient International Exhibition (MIE) COO Binu Pillai said following the Modi-Xi meeting, Chinese officials, manufacturers of various plants and machineries and general traders were very much upbeat for long-term trade prospects between the two countries.
MIE will organise a three-day trade show of Chinese products, "China Homelife India-2014" and Chinese machineries, "China Machinex India-2014" in Mumbai from Nov 20, Pillai said.
To be inaugurated by the mayor of Wenzhou in the presence of top Indian and Chinese officials, these are a series of global expos held annually in Poland, Brazil, Dubai, South Africa, Kazakhstan, Turkey, Jordan and India, he added.
The expos will include a daylong seminar 'India-China Investment Opportunities' with brainstorming discussions on the subject.
"We belive India is a huge market for Chinese machiners… the expos will provide a global platform to Indian corporates, particularly those manufactuers-producers who don't travel much in international trading circles," Pillai said.
China exports machinery worth $10.70 billion to India annually, which comprises 20 percent of the total Indo-China bilateral trade of $75 billion.
The bilateral trade is expected to touch around $100 billion within a year, Pillai added.
The Chinese machines are used in India for power plants, food processing, pharmaceuticals, packaging, plastics and steel.
According to Pillai, easy access to technology, competitive rates and environmental aspects have enabled China to become a leading player in the global machinery markets.